Barack Obama raises more funds than Mitt Romney in August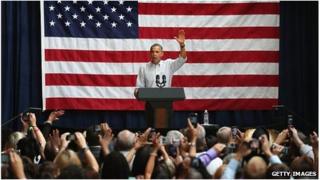 US President Barack Obama has raised more cash than his Republican rival Mitt Romney for the first time in months, August figures have revealed.
Mr Obama and the Democratic Party machine raked in some $114m (£71m), the president's campaign said.
That narrowly beat the $111m raised by Mitt Romney and the Republican Party, who announced their figures earlier.
Both campaigns say they expect to raise about $750m in total before the election, to be held on 6 November.
Neither candidate is accepting public financing of their campaign, allowing them to raise unlimited funds for their campaign war chests.
'Americans not better off'
The Obama and Democratic figure is a considerable jump from their fundraising efforts in the past three months.
Throughout the summer they brought in roughly $75m per month, while Mr Romney and the Republicans raised more than $100m in June, July and August.
In a statement, Obama campaign manager Jim Messina said: "The key to fighting back against the special interests writing limitless cheques to support Mitt Romney is growing our donor base, and we did substantially in the month of August."
Mr Messina said the campaign had added more than 317,000 donors who had never given to the campaign before.
Mr Obama's campaign has burned through money faster than his opponent, spending almost $60m in July, with most of the money going towards advertising.
The Romney campaign is seen as having a substantial cash advantage going into the final two months of the campaign, in which it is expected to use a barrage of TV ads against the president.
Announcing its August fundraising, the campaign said it had $168.5m "cash in hand" going into September.
Campaign finance chief Spencer Zwick and Republican National Committee chairman Reince Priebus said Americans were not better off than four years ago and were "looking for a change of leadership".
"Mitt Romney and Paul Ryan are offering bold solutions to our country's problems - that is why we are seeing such tremendous support from donors across the country," they said in a statement.