Fort Hood accused Nidal Hasan 'must shave off beard'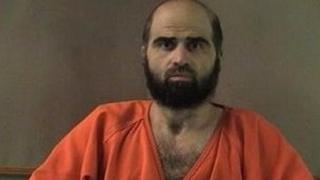 A man accused of killing 13 people at a Texas army base in 2009 has been told to shave his beard before his murder trial, or have it forcibly removed.
Major Nidal Hasan argued he had grown it in compliance with his Muslim faith.
But a military judge said the 41-year-old had failed to prove sincere religious reasons for wearing the beard, which is against army rules.
The army psychiatrist is accused of opening fire on soldiers preparing for deployment at Fort Hood, Texas.
Thirty-two people were injured in the attack. Maj Hasan faces 13 counts of pre-meditated murder and 32 counts of attempted pre-meditated murder.
The rampage was the worst of its type at a US military base and Maj Hasan could face the death penalty if convicted.
Forced shaving
The judge, Col Gregory Gross, delivered the ruling after a hearing on whether a federal law on religious freedom applied to Maj Hasan's case.
Prosecutors had also argued the beard made it harder for witnesses to identify the accused.
But Maj Hasan's lawyers disputed the claims, saying that earlier in the year their client had wanted to plead guilty and "accept responsibility".
He even tried to change US Army rules that prevented Maj Hasan from pleading guilty to murder in a death penalty case, the lawyers added.
Earlier, the suspect had been found in contempt of court at six pre-trial hearings on account of his facial hair. He had been sent to a trailer to watch the proceedings on a closed-circuit television.
But on Thursday Maj Hasan was present in the courtroom. Col Gross explained the accused had been permitted in court to prevent a future appeal on the decision, if convicted.
According to military protocol on forced shaving, a team of five military police officers must restrain the inmate "with the reasonable force necessary".
It must be done with electric clippers and must be filmed. In addition, a medical official must be on hand in case of injuries.
Maj Hasan was paralysed from the chest down after being shot by police during the incident at Fort Hood.
He is being held at a special hospital cell about 15 miles (25km) from the Texas base.