Former Quebec Premier Jean Charest leaves politics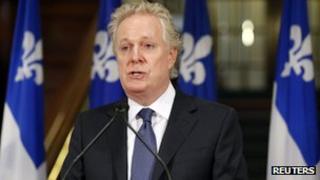 Quebec's outgoing Premier Jean Charest has announced he will resign as Liberal Party leader and leave politics, saying he has "no regrets".
Following Tuesday's elections, his party no longer leads the majority French-speaking Canadian province.
Mr Charest, who has been premier for nine years, also lost his own regional seat in the election.
Pauline Marois, 63, of the Parti Quebecois (PQ), will become the province's first woman premier.
PQ formed a minority government by winning 54 of 125 of the province's seats. The Liberal Party will now form the largest opposition party with 50 seats.
Coalition Avenir Quebec (CAQ), a 10-month old party, won 19 seats, with the remaining two seats going to Quebec Solidaire.
But PQ's celebration was marred after a gunman killed one man and wounded another outside the hall where Ms Marois was speaking on Tuesday.
'You have been marvellous'
At a news conference on Wednesday, Mr Charest said he and his family had come to the decision to leave politics shortly after the electoral defeat.
"The decision was unanimous. I will leave my post as leader of the Liberal Party of Quebec in a few days, once a new government is formed."
"As a father, who will soon be a grandfather, it's as if life was sending me a signal," he said. "From the bottom of my heart, I give a great thank you to Quebecers. You have been marvellous."
Many voters contend that the main issue is Quebec's flailing economy, the BBC's Lee Carter in Toronto says, with the province weighed down by C$184bn ($186bn; £117bn) of debt.
Quebec has also been beset for the past year with large student demonstrations - some violent - opposing the government's attempts to increase tuition fees.
PQ has vowed to repeal a law put in place last year to curb the protests.
Several Liberal Party members told the Canadian broadcaster CBC Mr Charest still had their support.
"He did an excellent job and was an excellent premier," outgoing economic development minister Sam Hamad said. "He did the impossible for Quebec."