Human torso found in suitcase in Lake Ontario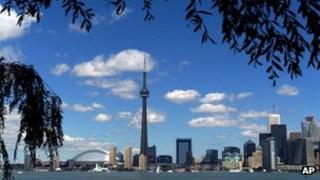 A suitcase containing a badly decomposed human torso was found in Lake Ontario near the Toronto shore, Canadian police say.
Officers could not immediately determine whether the torso was male or female, and a post-mortem exam is scheduled for Thursday.
There was also no information on any link to Guang Hua Liu, whose body parts were found around Toronto last month.
Her torso is missing. Her ex-boyfriend is being held on suspicion of murder.
Peel Regional Police, investigating Liu's murder, said they were working with Toronto police to determine if there was any connection between the torso inside the suitcase and the murder.
Toronto officials said boaters on Lake Ontario found the suitcase about 2.5km (1.5 miles) from the shore, before alerting police.
There have been two other unrelated cases of found body parts in Canada this year, including the murder and dismemberment of a Chinese student in Montreal in May.
The main suspect in that case, Luka Magnotta, denies killing Jun Lin, and posting his body parts around Canada.
And on 30 August, a torso of a woman was found floating downstream from Niagara Falls. Canadian police determined it was not linked to the other cases.