Weather sees Democrats abandon Obama stadium speech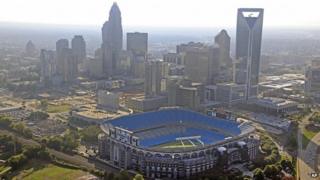 Democratic convention organisers have cancelled plans for Barack Obama to accept the party's presidential nomination at an outdoor stadium.
Citing poor weather forecasts, they moved Thursday's speech from the arena to a much smaller indoor venue.
Former US President Bill Clinton is meanwhile putting the finishing touches to his prime-time address on the second day of the gala in North Carolina.
Mr Obama faces Republican nominee Mitt Romney in November's elections.
The plan was originally for the Democratic president to deliver his speech on Thursday night at Charlotte's 74,000-seat Bank of America stadium.
But convention organisers said on Wednesday that Mr Obama's address would instead take place in the Time Warner Cable Arena, an indoor venue with capacity for 20,000 people.
Thunderstorms are forecast for Thursday in Charlotte, which has seen heavy evening rains in recent days.
'Safety and security'
The decision is seen as a blow to the Democrats, who had hoped to produce a visual spectacle like the one in 2008 when Mr Obama accepted the nomination at a packed football stadium in Denver, Colorado.
Convention chief Steve Kerrigan said in a statement the venue had moved indoors "to ensure the safety and security of our delegates and convention guests".
But Republican spokeswoman Kirsten Kukowski blamed the move on a "lack of enthusiasm". "Problems filling the seats?" she asked in a statement.
On Wednesday, Mr Clinton will nominate Mr Obama as the party's candidate for November's election.
Democrats hope the former president, who oversaw a booming economy and balanced budgets, can help dispel voter perceptions that Mr Romney would do a better job than Mr Obama.
Massachusetts Senate candidate Elizabeth Warren will deliver the keynote address before Mr Clinton. She is fighting Republican incumbent Scott Brown in a closely watched race.
Meanwhile, Chicago Mayor Rahm Emanuel has been drafted to work with Priorities USA, a political fundraising committee supporting Mr Obama, the Washington Post reported.
Mr Emanuel, who addressed the convention on Tuesday, has a reputation as a formidable fundraiser, a boon to Democrats who have not attracted as much money from donors as Republicans in recent months.
On Tuesday night, First Lady Michelle Obama told a crowd that her husband's experiences and struggles had guided his decisions as president.
"Barack knows the American Dream because he's lived it," she said, adding: "He wants everyone in this country to have that same opportunity, no matter who we are, or where we're from, or what we look like, or who we love."
Julian Castro, Mayor of San Antonio, Texas, and the first Hispanic to deliver the party's keynote address, said the Republican nominee was a millionaire "who doesn't get it".
Former Ohio Governor Ted Strickland said that if Mr Romney, a former private equity chief, "was Santa Claus, he'd fire the reindeer and outsource the elves".
The Republican nominee, a former governor of Massachusetts, is expected to spend the week away from the campaign trail, preparing for a series of debates with Mr Obama.
But vice-presidential running mate Paul Ryan kept up the attack, telling Fox News: "What you did not hear [at the Democratic convention] is that people are better off than they were four years ago."
Republicans are focusing their argument on the fragile US economy, which has had 42 months of unemployment surpassing 8% - the longest such period since the end of World War II.
No president since the Great Depression has been re-elected with joblessness so high.