Hurricane Isaac: '13,000 homes damaged' in Louisiana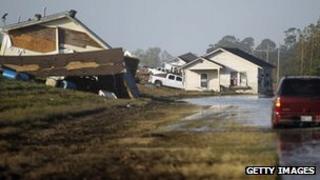 Hurricane Isaac damaged at least 13,000 homes in the state of Louisiana after coming ashore on the US Gulf Coast, officials have estimated.
A spokeswoman for the state's emergency preparedness office called the number "very preliminary".
Isaac killed seven people and brought heavy flooding to areas near New Orleans.
Floodwaters are now receding, but thousands of people were forced out of their homes.
By Tuesday about 1,500 evacuees were still in shelters but most power outages were restored, almost a week after the storm hit the mouth of the Mississippi river as a category one storm.
Christina Stephens, spokeswoman for the state Office of Homeland Security and Emergency Preparedness, told reporters that the remaining flooding was still preventing a full assessment of the damage.
Isaac hit the New Orleans area seven years after Hurricane Katrina devastated the city.
In the wake of Katrina, which killed almost 1,800 people, the US federal government spent $14.5bn (£9.1bn) rebuilding the city's flood defences.
Although Hurricane Isaac did not have the same force as Katrina, the storm moved slowly and dumped large volumes of rain on Louisiana and Mississippi. Many of the areas hardest hit by the hurricane were not protected by the New Orleans flood barriers.
President Obama visited damaged areas on Monday and pledged to "expedite" any improvements to flood defences still awaiting completion.