Probe against Arizona Sheriff Joe Arpaio halted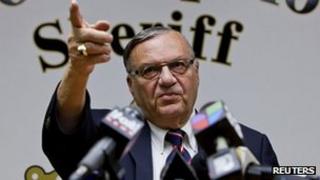 US prosecutors have halted an abuse-of-power investigation against controversial Arizona Sheriff Joe Arpaio, without filing charges.
The probe was launched in 2010 over accusations that Mr Arpaio's office launched a personally motivated corruption case against a judge.
A separate probe into alleged racial profiling by Mr Arpaio continues.
Mr Arpaio, the self-styled "toughest sheriff in the US", is known for his hard line against illegal immigrants.
"After careful review, we do not believe the allegations presented to us are prosecutable as crimes," Assistant US Attorney Ann Birmingham Scheel said in a letter explaining the decision to drop the investigation, according to the Associated Press news agency.
'Not crooks'
Addressing a news conference shortly after returning from the Republican National Convention in Tampa, Florida, Mr Arpaio said he was "happy" with the decision.
"They did their investigation, they didn't find enough probable cause and they didn't bring an indictment," he was quoted saying by AP.
"We don't go around framing anybody. My people are not crooks."
The sheriff and an aide had been accused of launching corruption proceedings against Superior Court Judge Gary Donohue.
The accusations also included claims of misuse of county-issued credit cards and US government money to pay for expenses they should not have been claimed.
In a separate and more high-profile case, the US Department of Justice in May brought a civil lawsuit against Mr Arpaio for alleged racial discrimination against Latinos other minorities, as well as accusations of negligent police work.
The sheriff first gained national prominence by forcing prisoners to wear pink underwear.