US media reacts to Mitt Romney speech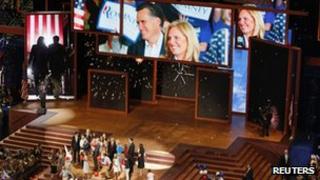 The US media has been commenting on presidential nominee Mitt Romney's acceptance speech at the Republican National Convention, as he vowed to make up for the "disappointments" of Barack Obama's presidency and "restore America's promise".
In a scathing opinion piece in The Washington Post, Jonathan Bernstein writes of "a generic speech and a generic convention for a generic Republican candidate", adding that "everything in it was perfunctory".
"The whole thing seemed to have a case of attention deficit disorder," he says.
However, The Atlantic's Molly Ball says "it was almost certainly the best speech Mitt Romney ever gave".
"The whole project was to create, for the first time, a Romney to believe in. To do that, Romney took a risk," she said.
"The program showcased the two most difficult and avoided parts of his biography - his religion and his business career," she wrote, adding that as his speech moved into policy it became "scattered".
Ball 'in Obama's court'
Fred Barnes at the Weekly Standard writes that Mr Romney "passed the convention test impressively".
"He suggested that voters had good reason to be excited by Obama in 2008. But the president had let them down by not following though on his promises of progress on the economy."
The Boston Globe says the speech was "less of an emphatic statement of purpose than a direct challenge to President Obama".
"Romney served the ball cleanly into Obama's court. Next week, Obama will have a chance to return the volley. He would do well to offer a clear, persuasive game plan for the future," the editorial says.
Writing in the Wall Street Journal's opinion journal from the Republican Convention, James Taranto spotted a possible line of attack for the candidate.
"Romney is very effective at puncturing Obama's grandiosity. If he does it half as well in person, the debates will be a blast," he writes.
The New York Times' Jim Rutenberg says Mr Romney "worked hard to show he has a heart" but still has to convince many Americans that Mr Obama's presidency did not work, and to let go of him and move on.
"[Voters] need to be told that it is OK to remain proud of their initial support for Mr Obama, but that they can be equally at peace with a decision to change their minds now," he says.
But John Cassidy at the New Yorker believes that while "Romney did what he had to do", the candidate's night was upstaged by Clint Eastwood.
"Unfortunately for him, the only thing that most people will remember about it is the jarring picture of a frail-looking American screen legend, his hair askew, standing and talking in a halting voice to an empty chair."