Texas voter ID law rejected by federal court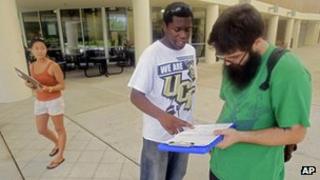 A US court has rejected a Texas law requiring voters to present photo identification before casting a ballot.
The judges said the law imposed "strict, unforgiving burdens on the poor", who are often racial minorities.
The ruling noted voters lacking the required documents for ID would have to buy them, a fee the US government says would amount to an illegal poll tax.
Texas' attorney general has vowed to bring an appeal to the US Supreme Court.
Thursday's ruling means the new law will probably not be in effect for November's election.
Texas' voter ID law, signed by Governor Rick Perry last year, is part of a trend to heighten identification measures across the US, driven largely by Republican-controlled legislatures.
Republicans say they are fighting voter fraud, while Democrats, with support from a number of studies, say voter fraud is largely non-existent.
They accuse Republicans of trying to disenfranchise minorities, the poor and college students.
'Unpersuasive, invalid'
In Thursday's decision, Judge David Tatel said the Texas law was "the most stringent in the nation", and argued it would impose a heavier burden than the Indiana and Georgia laws.
The circuit judge, appointed during the administration of President Bill Clinton, said evidence showed that the law did the most harm to African Americans and Hispanics, who were more likely to live in poverty.
Those without the required underlying documents to obtain ID would have to buy them, he noted.
The US justice department has said that fee would amount to an illegal poll tax.
Judge Tatel added that evidence submitted by Texas to refute suggestions the law was discriminatory had been "unpersuasive, invalid, or both".
Texas is the largest of several states that, because of a history of electoral discrimination, must gain federal approval for any changes to its voting laws.
The justice department blocked the Texas law in March, under the 1965 Voting Rights Act, saying it endangered minority voting rights. Texas sued the department.
When the case went to trial in July, the justice department called several lawmakers - all Democrats - as witnesses, who said they detected a clear racial motive in the push for the law.
The court ruling comes only two days after a separate panel ruled that Texas did not draw its new congressional and state Senate maps "without discriminatory purposes".
Texas officials vowed to challenge Thursday's decision on the voter ID law.
The state's attorney general, Greg Abbott, said: "Today's decision is wrong on the law and improperly prevents Texas from implementing the same type of ballot integrity safeguards that are employed by Georgia and Indiana - and were upheld by the Supreme Court."
On Wednesday, a US district judge permanently blocked a Florida law that tightened deadlines for groups conducting voter registration drives.
A case is also being heard this week on a voter ID law passed by South Carolina's legislature in 2011.
The state sued after the justice department blocked the measure last December under the same law as the Texas case.
It was the first time a voting law had been refused by federal officials in nearly 20 years.
Last year, new voter ID laws passed in Kansas, Mississippi, Rhode Island and Wisconsin, while existing laws were tightened in Texas, South Carolina, Alabama and Tennessee.
Pennsylvania also enacted a voter ID law this year, which is now the subject of a state court battle.