Tropical Storm Isaac loses steam over Louisiana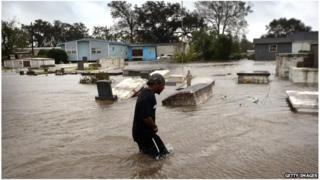 Tropical Storm Isaac, downgraded from a hurricane, is gradually losing steam but still bringing heavy rains and floods to southern US states.
Isaac is expected to lose its tropical storm status late Thursday as it heads north towards Arkansas and Missouri.
The centre of the storm has now passed New Orleans, seven years after the devastating and much stronger Hurricane Katrina.
Isaac was downgraded from a hurricane on Wednesday afternoon.
At 07:00 (12:00 GMT), the centre of the storm was over Louisiana and would continue to move over the state during the course of Thursday, the US National Hurricane Center (NHC) said.
Although no longer a hurricane, Isaac still poses a threat to life because of storm surges, floods and tornadoes, the NHC says.
Along the shores of Lake Ponchartrain just north of New Orleans, dozens of buses and high-water vehicles were sent to evacuate some 3,000 people as waters rose fast - it was waist-high in some areas, the Associated Press news agency reports.
The Louisiana National Guard was working with sheriff's deputies to rescue people stranded in their homes, AP says.
The floodwaters "were shockingly fast-rising, from what I understand from talking to people," Lt Gov Jay Dardenne said. "It caught everybody by surprise."
Nearly a million people across four states in the region are now without power.
Curfew imposed
Isaac had top sustained winds of 45mph (70 km/h) early on Thursday as its centre moved over southern Louisiana.
An overnight curfew in New Orleans was declared by the city mayor.
The city's multibillion-dollar barriers have stood firm, but areas to the north and south of the city were flooded and people there had to be evacuated or rescued.
"Hurricane Isaac has reinforced for us once again just how vulnerable these critical areas are," Louisiana Senator Mary Landrieu said on Thursday. "We must re-engage the Corps of Engineers on this."
Sea water breached a levee in the town of Plaquemines Parish, south of the city, which bore the brunt of the storm in the area.
Storm surges are still a concern, with peaks of up to 10ft (3m) forecast in parts of Mississippi and south-eastern Louisiana.
Rainfall of up to 25in (63cm) is expected across wide areas, with a high chance of isolated tornadoes along the coast.
On Wednesday, President Barack Obama declared an emergency in Louisiana and Mississippi, allowing federal funds to be released to local authorities.
Isaac is expected to move further inland over the next several days before breaking up during the weekend.
Isaac killed at least 24 people as it passed over Haiti and the Dominican Republic earlier this week.
It also caused significant flooding and damage across the Caribbean and forced a day's delay to the start of the Republican party's congress in Tampa, Florida.