Tampa homeless 'sidelined' by Republican convention pomp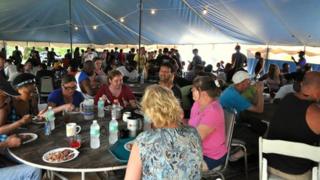 Security in Tampa, Florida, surrounding the Republican National Convention has created hassles for everyone who lives and works in the city.
And for the city's large homeless population, the convention presents a major disruption in an already tenuous existence.
With its ordinarily fair weather and capacious convention and hotel facilities - not to mention Florida's prized 29 electoral votes, out of 270 needed to win the White House - Tampa presented an attractive option for Republican Party convention planners.
But the city also has the highest rate of homelessness in America, according to the National Alliance to End Homelessness.
About half those people told surveyors they became homeless for financial reasons - including the area's high unemployment and real estate prices. Only 7% cited drugs or alcohol.
Less than a mile and a half from the convention's catered lunches, lobbyists' cocktail hours and media scrums, on Wednesday dozens of homeless men and women were milling about the Salvation Army emergency shelter north of downtown.
The shelter, which is ordinarily shuttered during daylight hours, had been opened as an emergency refuge where the homeless could store their belongings and stay out of the way of thousands of police officers - as well as the thousands of Republican politicos and journalists who swarmed into the city for the convention.
'No riff-raff'
"They don't want to be on the streets," said Steve Vick, general manager of the Salvation Army of Hillsborough County. "Imagine if you're downtown with a big bag on your back."
In interviews in Tampa this week, homeless men and women reported increased pressure and hostility from downtown police as the convention came to town.
And they said many of the locations where they typically rest, pass the time and search for jobs have been rendered off limits behind the security cordon.
"It's what I would call a clean-up operation," said Gina Molina-Abella, a 49-year-old former waitress who has been homeless since her husband died last year and left her unable to pay her rent.
"They want to make sure when the Republicans come to town, there's no riff-raff on the street."
Mr Vick said homeless people reporting increased pressure from police are probably caught up in the same security hassles as everyone else, and assume they are being targeted specifically for harassment.
"If you're the person who they have told to move on, it's personal. But it's not. It's the same for everyone."
But the Secret Service and police have blocked off a swathe of downtown Tampa, set up check points, erected security fences, and otherwise disrupted the ordinary flow of pedestrian and automobile traffic.
And the Tampa police department's homeless liaison officer acknowledged in an interview that many of the out-of-town police officers supporting the Tampa force may be unfamiliar with the city's relatively lenient treatment of its homeless.
'Overflowing'
"It might be the case they're trying to deal with situations as they come up and they might be telling them just to leave or to move along," said Officer Daniel McDonald.
"There's probably going to be individual cases where [homeless people] may incorrectly be told to move along. I'm hoping that if that's the case, it's for their safety."
Ernest Grandison, a US Army veteran homeless since January, said the pressure from police had increased in recent weeks. Before the security ratcheted up for the convention, police would let him be, he said.
"Now," said Mr Grandison, "if you stop to rest on a bench, they pull up and say, 'you need to leave'."
Mr Grandison, who attributed his homelessness in part to past struggles with drugs and alcohol, said the security cordon has added an extra 90 minutes to his walk to a church near downtown that serves a hearty breakfast on Sundays.
"Other places that feed, you can't get there no more," he said. "If we go to these places, we get stopped by the police: 'Where you going? What you doing?'"
In interviews, homeless people recited a litany of inconveniences that seem far more profound than those suffered by middle-class Tampa residents during the convention.
Two downtown public libraries - where homeless men and women pass time during the day reading, resting or using the computers to search for jobs - are closed this week.
A downtown park along the waterfront has been requisitioned by the city of Tampa to throw parties for convention-goers, ejecting the homeless people who hang out there.
Harassment
Homeless people have been told to move their caches of belongings from bushes and other hide-aways downtown.
"You're bringing in tens of thousands of people into our downtown area where homeless people do live," said Lesa Weikel, community relations manager for the Homeless Coalition of Hillsborough County.
"People start getting pushed out. Disagreements happen. Things get stolen. Homeless people don't have a place to put their belongings. They sit on the same park bench that our visitors want to sit on."
Tampa shelters and support organisations have responded to the increased pressure on the homeless, though they have been offered no public support for doing so.
"We're full all the time now," said Pastor Tom Atchison, founder of New Beginnings, a homeless services organisation.
"We're overflowing because they're being tough on the homeless downtown. They've spent millions of dollars in Tampa on decorations and security, and they didn't make any provision for the folks who are disenfranchised."
Ms Molina-Abella offered advice to her fellow homeless people as they bide their time until the convention closes on Friday: "Don't let them see you sitting in a park with your bags - they will come and harass you."