Nut-throwers ejected from Republican National Convention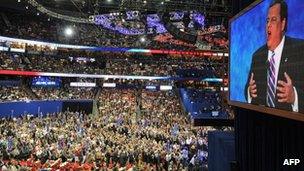 Two attendees were ejected from Republican National Convention on Tuesday for throwing nuts at a black CNN camerawoman.
The individuals told her "this is how we feed animals" as they threw the nuts, multiple witnesses said.
Convention security and police removed the two from the convention centre shortly after the incident.
In a statement, convention officials said the attendees had "exhibited deplorable behaviour".
"Their conduct was inexcusable and unacceptable. This kind of behaviour will not be tolerated."
The incident reportedly occurred shortly after 20:00 local time. The identities of the two ejected was unclear. News broadcaster CNN confirmed the incident but had no additional comment.
The incident happened on Tuesday in the Tampa Bay Times Forum, where delegates officially nominated Mitt Romney as the Republican candidate to face President Barack Obama in the November presidential election.
Former Bush White House press secretary and CNN commentator Ari Fleischer told the BBC: "If it's what has been reported to have been their motive it's reprehensible. They have no place being at this convention."
Among Tuesday night's speakers was Mia Love, who is aiming to become the first black Republican woman to be elected to Congress.