Mitt Romney: Obama campaign seeks to 'divide America'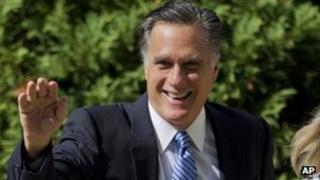 Republican presidential candidate Mitt Romney has accused his rival President Barack Obama of running a campaign built on "anger and divisiveness".
Mr Romney said the Democratic campaign had hit a "new low" by trying to link him to controversial views on rape recently voiced by another Republican.
The Obama camp has accused Mr Romney of extreme positions on social issues.
The Republicans are due this week to nominate Mr Romney as their candidate in November's presidential elections.
The party has been forced to delay by a day - until Tuesday - the start of its national convention in the Florida city of Tampa because of the approaching Tropical Storm Isaac.
'Legitimate rape' row
"I would suggest that that's a campaign of anger and divisiveness," Mr Romney said, referring to Mr Obama's campaign in Sunday's interview with US TV channel Fox News.
"That's the kind of divisiveness that I think Americans recognise and I think it's one of the reasons why his campaign, despite spending massively more than our campaign, that his campaign hasn't gained the traction that he would have expected."
Mr Romney said the Democrats were now seeking to tie him to the remarks by embattled congressman Todd Akin, who sparked uproar by claiming women's bodies could prevent pregnancy in cases of "legitimate rape".
Mr Romney described the remarks as "offensive and wrong", urging the Missouri congressman to withdraw his candidacy for the Senate.
However, he admitted in Sunday's interview that the controversy over the remarks "hurts our party and I think is damaging to women".
The BBC's Zoe Conway in Washington says many voters do not yet feel they know Mr Romney, and he will seek to boost his image at the Republican national convention in Tampa.