Nineteen shot in Chicago night of mayhem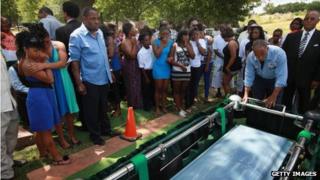 Nineteen people were shot in seven attacks overnight in Chicago, as the US city's gun violence epidemic continued.
Thirteen of the victims were shot within a half-hour period, including eight in a drive-by shooting on a single street.
Chicago officials have been battling a sharp increase in shootings and homicides, with some elected officials arguing gangs do not fear the police.
The city's murder rate has spiked 29% year-over-year as of this month.
By that time in 2011, 270 people had been killed in the city, according to data complied by the local newspaper RedEye Chicago. In 2012, that number is 348.
Most of the violence has been in Chicago's troubled south and west sides, but there also have been a handful of incidents in the downtown area.
Victims 'not co-operating'
Thursday's violence began shortly after 17:00 local time (22:00 GMT), when four men were wounded on the west side.
A drive-by shooting in the south side injured seven males and one female, ranging in age from 14 to 20 years. Then five people were wounded in three other shootings around the same time.
Early on Friday morning, a 17-year-old was shot in the back.
Andrew Holmes, a community activist, told NBC Chicago some of the injured were not co-operating with police.
"They need to step up and speak up for us," he said. "Nine times out of 10, they knew who was firing the shot at them."
It is not the first time this year Chicago has seen a single night of double-digit victims.
Over the Memorial Day weekend in May, 12 people were killed, and another 48 were wounded.
Police Superintendent Garry McCarthy has been criticised for eliminating police teams sent to crime hot spots.
Chicago's homicide increase is counter to lowered rates in other major US cities, including New York and Washington.