US middle class in 'lost decade' as income falls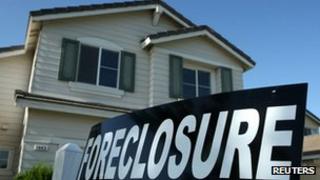 The US middle class is in a "lost decade" as its share of the country's income has been surpassed by affluent earners, a new report says.
The Pew Research Center found that 62% of middle-class Americans reported they were being forced to reduce spending.
And 43% expect their children's standard of living will be better than their own, down from 51% in 2008.
Both US presidential candidates have offered competing plans for the economy to middle-class voters.
But among the self-described middle class, 52% of adults believe President Barack Obama's policies in a second term would help them, opposed to 42% who said electing Republican challenger Mitt Romney would do the same.
About half of US adults define themselves as middle class, roughly the same percentage defined by US Census data, with incomes ranging from about $39,000 to $118,000 (£24,000 to £74,000).
Timothy Smeeding, a University of Wisconsin-Madison economics professor, told the Associated Press that the middle class has been hurt by rises in healthcare costs and college tuition, as well as disappearing mid-wage jobs.
"No matter who is president, the climb back up for the middle class and the recovery will be slow and often painful," Mr Smeeding said.
Congress, banks to blame
Congress was the most likely to be blamed for middle-class economic woes, with 62% of respondents saying "a lot" of the blame lies with the legislative body.
Banks and financial institutions were the second most likely to be blamed.
The study also found that most of middle-class Americans - 85% - feel it is now more difficult than a decade ago to maintain their standard of living.
Data from the US Census and the Federal Reserve showed that both median household income and net worth for the middle class were down from 2000, with earnings for a family of three falling from $72,956 to $69,487.
Pew's analysis also found that upper-tier incomes accounted for 46% of US aggregate household income in 2010, surpassing middle-tier incomes (45% for the first time since 1970). In 1970, those percentages were 29% for upper-tier incomes and 62% for middle-tier incomes.
The percentage for lowest tier incomes have remained largely unchanged.
Overall, the percentage of Americans in the middle class declined, from 54% in 2001 to 51% in 2011, while both the percentages of people in the upper and lower class grew.