Canada body parts victim identified as Guang Hua Liu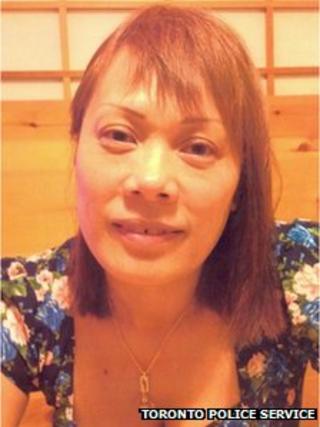 Canadian police have identified a woman whose body parts were found scattered around the Toronto area last week.
Guang Hua Liu, 41, a single mother of three, was last seen by friends who dropped her off at work on 10 August.
Police found her head, foot and two hands in a nearby river last Thursday, and then calves, a thigh and an arm in a creek over the weekend.
Officials rule out any link with the murder and dismemberment of a Chinese student in Montreal in May.
The main suspect in that case, Luka Magnotta, denies killing Jun Lin, and posting his body parts around Canada.
On Tuesday, Peel Region Inspector George Koekkoek told reporters they were treating Liu's death as a homicide.
He said it was too early to talk about a suspect.
She was a Canadian citizen of Chinese descent who had owned a spa in eastern Toronto.
Liu was reported missing on 11 August.
Police first recovered a head in the Credit river at a park in Mississauga, Ontario, which borders Toronto to the west.
The second set of remains were found in West Highland Creek, in the east of the city.