Tom Cruise leads tributes to director Tony Scott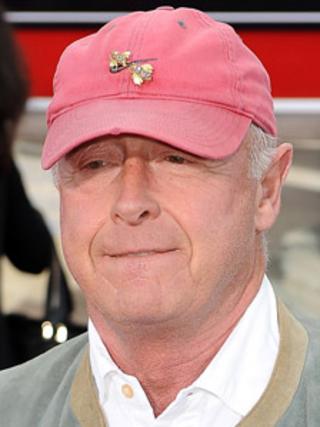 Tom Cruise has led tributes to his "dear friend" Tony Scott, who has died aged 68 after jumping from a bridge in Los Angeles on Sunday.
The British director was known for action films like Top Gun and Days of Thunder, in which Cruise starred.
"He was a creative visionary whose mark on film is immeasurable," he said.
An autopsy was carried out on Monday. Results will not be known for several weeks but the coroner denied reports that Scott had a brain tumour.
Various media outlets had cited an anonymously sourced story that suggested the director had an inoperable cancer.
"According to the family, to their knowledge, he did not have any issues with any cancers," Los Angeles Assistant Chief Coroner Ed Winter told reporters.
"They don't know where that came from."
The film director was seen parking his car and jumping - "without hesitation," according to witnesses - from the Vincent Thomas suspension bridge at about 12:30 (19:30 GMT) on Sunday.
His body was recovered from the harbour less than three hours later.
The death is being treated as a probable suicide, but coroners said their findings would not be complete until toxicology and other tests came back.
Notes the director left for loved ones will also help determine the cause of death.
Oscar-winning actor Denzel Washington, who worked with Scott on five films said: "Tony Scott was a great director, a genuine friend and it is unfathomable to think that he is now gone.
"He had a tremendous passion for life and for the art of film-making and was able to share this passion with all of us through his cinematic brilliance".
'Kindness'
Scott made his name with high-octane blockbusters like Top Gun, True Romance and Crimson Tide.
Born in North Tyneside, he was the brother of director Ridley, with whom he worked throughout his career.
Recently he had produced Ridley's return to the Alien franchise, Prometheus. The brothers' production company, Scott Free, is responsible for hit TV shows including Numb3rs and The Good Wife.
TV network CBS, which broadcast both shows, said "one of the brightest lights in the industry has gone out."
During his career, Scott collaborated with many of Hollywood's biggest names, and many shared their memories of the "kind" and "passionate" film-maker on Monday.
Gene Hackman, who worked with Scott on Crimson Tide and Enemy of the State, said the director "was always sensitive to the needs of an actor. We've lost a wonderful, creative talent."
"Shocking and devastating news," said Christian Slater, who starred in True Romance. "He was the best and will be greatly missed."
Actress Keira Knightley, who took the lead in Scott's 2005 action film Domino, called him "one of the most extraordinary, imaginative men I ever worked with," and "one of the world's true originals".
Director Ron Howard said "No more Tony Scott movies. Tragic day."
Top Gun star Val Kilmer said "RIP Tony. You were the kindest film director I ever worked for. You will be missed."
Robert Rodriguez, director of Sin City and Desperado added: "Tony Scott. Damn. Great knowing you, buddy. Thanks for the inspiration, advice, encouragement, and the decades of great entertainment."
Read more: Film world remembers Tony Scott
A statement from Pinewood and Shepperton studios chief executive Ivan Dunleavy said he and colleagues were "deeply saddened to learn of the tragic news".
Others commented on the fact that Scott had rarely received critical accolades, despite his impact on cinema.
"True Romance (written by Tarantino) did not receive the recognition it so rightly deserved (one of the decade's best films)," tweeted film-maker Michael Moore.
"The scene with Christopher Walken and Dennis Hopper in a Detroit railyard is a classic."
Scott is survived by his wife, actress Donna Scott, who appeared in several of her husband's films, and their twin sons.
"The family asks for privacy during this time," said Simon Halls, a publicist who represented Scott and his elder brother.