Tony Scott: Your memories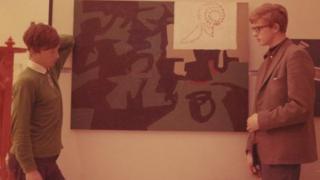 Hollywood director Tony Scott, famous for films including Top Gun, has died after jumping from a bridge in Los Angeles, authorities have said.
The Los Angeles County Coroner's office said the death of British-born Scott was being investigated as a suicide.
BBC News website readers share their memories of the 68-year-old, whose other films include Crimson Tide, Days of Thunder and True Romance.
Edwin Porritt, Thirsk, North Yorkshire, UK
I went to primary school with Tony Scott in Hartburn in Stockton-On-Tees in the 1950s.
I could claim that I was one of the first people he ever directed. One day we were doing a play in the classroom - even at 10-years-old Tony took the role of director, telling me what to do.
At school he was a friend of mine. He was a kind and considerate person whose ability at art was way ahead of the rest of the school.
We lost contact when we went to different secondary schools.
It was not until years later when I was at a party someone said to me: "Do you know Tony Scott, the director of Top Gun?"
I said I went to primary school with a Tony Scott but had no idea it was the Tony Scott. I couldn't believe it.
Joe Martinez, Louisiana, US
We were in a very poor neighbourhood just outside of Mexico City during the making of Man on Fire.
We were often in very tough and even dangerous areas when we were filming with Tony.
He insisted on shooting among the "real people" and their "real neighbourhoods" for the absolute authenticity and integrity of the film, and to capture the visuals that could never be truly reproduced by a Hollywood art department.
He enjoyed meeting the local people and it was quite obvious that he had a great deal of affection and respect for these people and the way that they could overcome the tough hand that they were dealt in life.
Tony was not a director that sat in a chair barking out orders; Tony's movies were extremely demanding mentally and physically, and he was always the first "up the hill".
He was always leading us into battle and never sent an assistant to do the work that he wanted done.
He would begin each day by standing on an apple box and explaining what was expected of us each day, a truly bonding moment for the crew each and every day.
Tony was always by our side no matter how tough the conditions and work hours were on himself and all of us.
He would sleep three hours a night and wake up and plan the next shoot day drawing out the day's work in hand-drawn story boards, which he would go over in the morning meeting.
I am having a very emotional day today reflecting on all of the unforgettable moments that I shared with Tony over the years.
I am sure that many of us, that were his crew and his extended family, are feeling the same way today upon hearing the news that Tony is no longer with us.
I will miss Tony Scott's special brand of humour, his enormous love for those around him, his unstoppable spirit, and his ability to experience the most out of his life.
He really lived while he was here and I imagine that he left this earth with no regrets.
Simon Bailey, Los Angeles, California, US
I met him often. I was a guitarist with South African band Just Jinjer, recording my solo album in LA whilst working part time for an exclusive food delivery company to make ends meet.
I delivered to his house several times a week. He was by far the nicest man of all our thousands of clients including hundreds of celebrities.
He would always invite me to sit down in his kitchen, and asked me how my life was and how my record was coming along. This is quite extraordinary for LA.
When I told him that I was leaving to mix my album outside LA, his send-off was the warmest by far of all our customers, and he gave me four times his always hugely generous tip.
I am very sad indeed to hear of his passing, and was so looking forward to arranging a party for him in South Africa, where he told me he was intending to visit.
I know that I am not alone in my experience. Within our delivery company he was known as the nicest customer. I am shocked at the news.
Tim Briggs, London, UK
I worked with Tony as an actor in Spy Game. He was an incredible director, with a very precise vision of how he wanted to shoot each scene, and how to bring out the drama.
His films were dynamic and had a style that was very individual to him.
Over the course of the last few years I started to think that perhaps the manner in which very successful high-budget blockbusters were being shot had started to supersede his style.
Hollywood action movies are a very top-end product and even brilliant directors like Tony will start to find it hard to get funding if producers decide they want a different style of vision for their movie.
RIP Tony Scott, your movies were fantastic. Man on Fire is probably the best example of your work: a beautifully shot, tough and worldly, deeply moving love story. You work lives on.
Marcus Miller, Sydney, Australia
I first met Tony when we did some tattoo designs for the movie True Romance. He became a friend and was one of the most exciting people I have ever met.
I just can't believe this - he lived life like he stole it, and was one of the hardest working people I have ever known.
Fastidious and detail-orientated in nature, yet caring and responsive. He never really acted like a big Hollywood mover and if you met him and did not know who he was you would think of him as nothing more than a regular guy.
He got respect not because he demanded it but because he earned it. I can never understand why Hollywood never paid him more tributes and recognised his contribution to film.
It was because of his movie Top Gun that my estranged father and I finally sat down and enjoyed a movie and a beer followed by some long overdue conversation.
When I told Tony that when I met him for the first time, you could see a sense of accomplishment or pride come over him.
He was just a really nice guy and will be missed long after the shock of this news is forgotten.
Pauline Fowler, Shepperton, UK
I worked on a huge advert in the 1980s which Tony Scott directed and all I can say is that everybody on the floor really liked him.
He used to sit and have his sandwiches with the whole crew at lunch, knew everyone's names, and loved having a laugh.
Having worked with a whole host of very famous directors and actors I can say this was a very rare thing for such a big director to be like. He shall be missed.
I instantly knew he would go into films after working on this advert with him - I knew he would make it big. This advert he directed was exactly like a film in its details and huge production.
The very well-known make-up artist Chris Tucker was involved in it and there were lots of prosthetics used to make things like aliens in it.
He had a lot to do with the Shepperton TV studios as did his brother Ridley. I didn't know anyone who didn't like working with Tony.