Beard row halts trial of Major accused of murder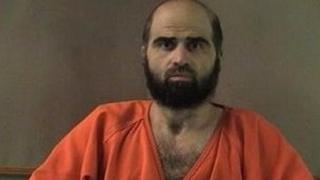 The trial of a US army psychiatrist accused of killing 13 people in a shooting spree at an army base has been suspended while a court decides whether his beard should be removed.
Major Nidal Hasan's lawyers say the beard is an expression of his Muslim faith, but army regulations state that soldiers must be clean shaven.
It is also argued that the beard makes it hard for witnesses to identify him.
Maj Hasan is accused of opening fire at Fort Hood army base in Texas in 2009.
The shooting was the worst of its type at a US military base, and if convicted, Maj Hasan, 41, could face the death penalty.
The trial has already been delayed several times - Maj Hasan first appeared for a hearing at the central Texas military complex with the beard in June.
He had been due to enter a plea on Wednesday, with the court martial due to begin on Monday.
But all proceedings have been put on hold while military appeal court judges consider what to do about his facial hair.
Premonition
Until now, the judge has not allowed Maj Hasan to stay in the courtroom, because being unshaven violates army regulations.
He has been found in contempt of court, fined $1,000, and has had to watch proceedings on closed-circuit television from a nearby room.
But the judge says he must be present during the court-martial, because if he is convicted, he may have grounds for appeal.
Lawyers for Maj Hasan say he has had a premonition that his death is imminent and that he believes dying without a beard would be a sin.
Forcing him to remove his beard could be a violation of his rights, they say.
Maj Hasan was paralysed from the chest down after being shot by police during the incident at Fort Hood.
He is being held at a special hospital cell about 15 miles (25km) from the base.