US hurricane forecast upgraded to 17 storms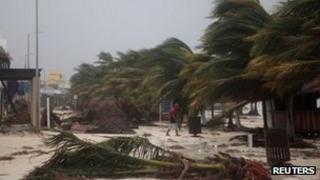 US weather officials have slightly increased their predictions for the 2012 Atlantic hurricane season to as many as 17 storms.
Forecasters estimate 12 to 17 tropical storms, with five to eight reaching hurricane strength.
The Atlantic basin has seen six named storms so far this year.
In May, the National Oceanic and Atmospheric Administration (Noaa) predicted nine to 15 storms, with four to eight becoming hurricanes.
Thursday's revised forecast is in part because of "storm-conducive wind patterns" and "warmer-than-normal" water temperatures, a Noaa spokesman said.
The most recent storm, Ernesto, hit Mexico as a hurricane on Tuesday, and has since weakened to a tropical storm.
The six-month Atlantic hurricane season began in June. Two tropical storms, Alberto and Beryl, formed in May.
Noaa forecasters are also expecting an El Nino, a periodic warming of the tropical Pacific, in late August or early September, but do not expect its effects to be felt on the Atlantic until later in the hurricane season.