US country star Randy Travis found 'drunk and naked'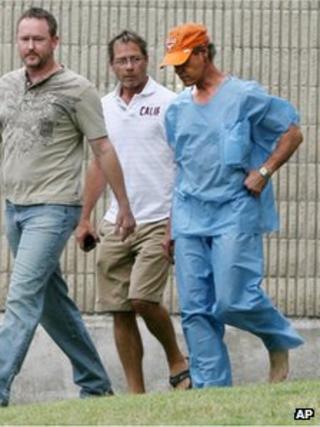 US country star Randy Travis has been charged with driving while intoxicated after he allegedly crashed his car and was found naked at the scene.
Travis, 53, was previously arrested in February for public intoxication.
Grayson County Sheriff's Office said they responded on Tuesday to a report of a man seen lying in a road near Tioga, Texas, where Travis lives.
Travis had threatened to kill arresting officers and refused sobriety tests, Texas officials said.
Tom Vinger, a spokesman for the Texas Department of Public Safety, said a blood sample was taken from the country singer instead.
Strong odour
The 53-year-old, who began his career in the mid-1980s, has won seven Grammys and several Country Music Association awards.
In Tuesday's incident, a car registered to Travis drove off the road, striking several barricades in a construction zone.
Sergeant Rickey Wheeler of Grayson County said Travis would also face charges of retaliation or obstruction.
"Travis had a strong odour of alcoholic beverage on his breath and several signs of intoxication," a statement from the sheriff's office said, adding he made "threats to shoot and kill the troopers working the case" while being transported.
On Wednesday, Travis made $21,500 (£13,700) bond, leaving jail wearing a clinical overall and no shoes.
A representative for the singer told the Associated Press there would be no immediate comment.
Travis has been involved in a court battle with his ex-wife, whom he divorced in 2010 after 19 years of marriage.
Elizabeth Travis sued earlier this year claiming he had made it impossible to do her job as his manager, and said her ex-husband sent several men, including an armed guard, to clean out her offices.
Randy Travis counter sued in May, saying she had divulged confidential information about him in order to damage his reputation and career.