Rick Santorum named as Republican convention speaker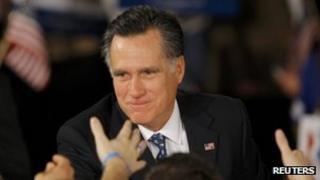 Rick Santorum, Mitt Romney's bitter enemy in the Republican presidential primaries, will address the party's national convention this month.
Former Florida Governor Jeb Bush will also speak but President George W Bush, his brother, does not plan to attend the event in Tampa, Florida.
Former Massachusetts Governor Romney will be anointed as the party's White House nominee at the gala.
The keynote and vice-presidential speakers have not been announced yet.
The Democratic National Convention will be held in early September, in Charlotte, North Carolina.
Mr Romney is challenging Democratic President Barack Obama for the White House in November's general election.
Veep guessing game
Mr Santorum has agreed to speak, despite reports that some Romney advisers had argued against offering the former Pennsylvania senator a convention slot in case he spoke off-message.
Also on Tuesday, Oklahoma Governor Mary Fallin and Tea Party star Kentucky Senator Rand Paul were also named as Republican convention speakers.
On Monday, female governors Nikki Haley of South Carolina and Susana Martinez of New Mexico, as well as former Secretary of State Condoleezza Rice were announced as speakers at the political extravaganza.
Correspondents say Ms Rice's selection as a headline speaker has allayed speculation she might be a surprise pick as Mr Romney's running mate.
On Monday, other convention speakers were announced, including former Arkansas Governor Mike Huckabee; Ohio Governor John Kasich; Arizona Senator John McCain and Florida Governor Rick Scott.
Analysts are also watching closely for the appearance of some key Republican figures who have not yet been announced in the programme.
Florida Senator Marco Rubio, New Jersey Governor Chris Christie, New Hampshire Senator Kelly Ayotte, Ohio Senator Rob Portman and Wisconsin Representative Paul Ryan's names are notably absent from the list.
They have all been touted by pundits as potential vice-presidential candidates.