Profile: Wisconsin Sikh temple shooter Wade Michael Page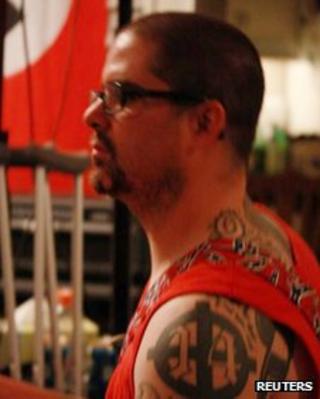 How did an apparently sensitive child who used to enjoy family camping trips turn into a hate-filled extremist who went on a gun rampage at a Sikh temple?
Wade Michael Page appears to have been a ticking time bomb of rage long before he opened fire on worshippers in suburban Milwaukee on 5 August, before turning the gun on himself.
Originally from the US state of Colorado, the 40-year-old was living in the southern Wisconsin town of Cudahy in the days before he launched his attack.
Neighbours have said Page seemed friendly and told them he had recently broken up with his girlfriend.
"We talked, but it was really about nothing," said Kurt Weins, who rented a room to Page in June. "He seemed pretty calm. He didn't seem like the type to raise his voice."
Peter Hoyt, who lives nearby, said: "He was friendly with me. When I found out it was him, I was astounded."
A civil rights group described the heavily tattooed skinhead as a "frustrated neo-Nazi" who had been a part of the white power music scene since 2000.
'Racial holy war'
He played in bands called Blue Eyed Devils and Definite Hate, and in 2005 created a group called End Apathy, the Southern Poverty Law Center said.
They performed songs with lyrics that mentioned killing Jews, black people, gay people and other minorities.
In a 2010 interview posted online, Page said his lyrics "vary from sociological issues, religion, and how the value of human life has been degraded by being submissive to tyranny and hypocrisy that we are subjugated to".
Band members were shown performing in front of extremist flags, including one bearing the swastika emblem of the Nazi Party.
A former friend, Christopher Robillard, of Oregon, told CNN that Page would "talk about the racial holy war, like he wanted it to come".
Page was active in online, far-right forums, encouraging others to action.
He posted as many as 250 comments on one website between March 2010 and mid-2012.
"If you are wanting to meet people, get involved and become active," Page wrote last year, "stop hiding behind the computer or making excuses."
'Precious little boy'
In November, Page challenged someone who commented online that he would leave the US if black Republican candidate Herman Cain became president.
"Stand and fight, don't run," he wrote.
Page described himself as a member of the Hammerskins Nation, a skinhead "brotherhood" based in Dallas, Texas.
He spent his childhood in the Denver area of Colorado and lived with his mother until her death, when Page was about 13 or 14 years old.
His former stepmother, Laura Page, told the New York Times that the boy had struggled to cope with his mother's death.
She said: "He was a precious little boy, and that's what my mind keeps going back to."
She also said that the family used to camp and fish and do "normal things" together.
In 1992, after finishing high school, Page joined the US Army and was stationed at various points in Oklahoma, Texas and North Carolina. He was not deployed overseas.
He was a qualified parachutist who received several good conduct awards and a National Defense Service Medal. He was also trained in psychological operations and as a Hawk missile systems repairman.
But in 1998, Page was discharged from the army later that year for "patterns of misconduct" and ruled ineligible to re-enlist.
He had been demoted from sergeant to the rank of specialist after getting drunk on duty and going absent without leave, defence officials said.
Page was also fired from his job as a lorry driver in 2010 after he was pulled over in North Carolina for driving while impaired, the Washington Post reported.
As investigators try to establish Page's motive for the shooting, many Americans are asking the same question: why?