Missouri mosque razed by fire, month after arson attack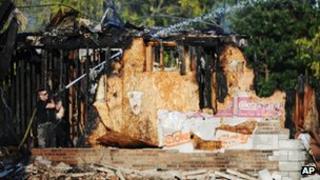 A mosque has burned to the ground in the US state of Missouri, a month after an arson attack on the building.
The fire was reported at about 03:30 (08:30 GMT) on Monday, but nobody was hurt, an FBI spokeswoman said.
The building in the city of Joplin was completely destroyed by the fire, said a spokeswoman for the Jasper County Sheriff's Office.
Authorities said they did not yet know the cause of the blaze, and that no-one had been arrested.
Members of the local community said the mosque had been targeted several times since it was founded five years ago.
On 4 July, an unidentified suspect was captured on surveillance video throwing a lit object on to the roof of the building.
It is not known if arson was involved in Monday's fire.
"Our sign has been burnt... Our mailbox was smashed multiple times. We had bullets shot at our sign," former mosque board member Navid Zaidi told AFP news agency.
He added that more people have been attending services at the mosque because it is Ramadan, the Muslim holy month of fasting and prayer.