Wisconsin Sikh temple gunman had 'white power links'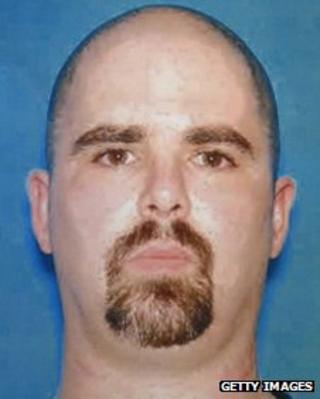 US authorities have said they are investigating reports that a gunman who killed six people at a Sikh temple in Wisconsin had white supremacist links.
Wade Michael Page, 40, who was gunned down by police during Sunday's attack near Milwaukee, reportedly performed in a far-right music group.
President Barack Obama said on Monday "soul searching" was needed about how to reduce violence in the US.
The FBI is treating the attack as a possible domestic terrorism case.
American Sikhs have reported being targeted since the 9/11 attacks, because they are mistaken for Muslims as a result of wearing turbans and beards.
Police chief John Edwards told a Monday morning news conference they were confident Page was the only shooter.
The gunman opened fire at the Sikh Temple of Wisconsin in Oak Creek as dozens of people were preparing for a service on Sunday morning.
'Frustrated neo-Nazi'
Five men and a woman aged between 39 and 84 died. Four people were found dead inside the building, and two outside.
Three others, including a policeman, remain in critical condition.
Chief Edwards said Lieutenant Brian Murphy, 51, had been tending to a victim at the scene when he was "ambushed" by the gunman.
The policeman was shot eight or nine times at "very close range", but was expected to recover.
The gunman also fired at a police car and ignored orders to drop his weapon, before he was shot dead outside by police, said the authorities.
Page used a 9mm semi-automatic pistol, which was recovered at the scene and had been bought legally, authorities said.
A civil rights group, the Southern Poverty Law Center, has described Page as a "frustrated neo-Nazi".
'Patterns of misconduct'
The organisation said that in 2010, he told a white supremacist website that he had been part of the white-power music scene since 2000.
He left his native Colorado and joined a skinhead band, End Apathy, in 2005, the civil rights organisation said.
Page also tried to buy goods from the National Alliance in 2000, a US neo-Nazi organisation, reports Reuters news agency.
US officials said Page was a former US Army member who was discharged for "patterns of misconduct" after being reduced in rank from sergeant to specialist. He was declared ineligible to re-enlist.
He was reportedly disciplined in June 1998 for being drunk on duty.
A former psychological operations specialist and a Hawk Missile System repairman, he served in the US Army between April 1992 and October 1998, ending his career at Fort Bragg, North Carolina.
On Sunday night, the authorities searched Page's house in the town of Cudahy, a few miles from the temple.
The Sikh Temple of Wisconsin was founded in 1997 and is said to have a congregation of about 400 worshippers.
Indian Prime Minister Manmohan Singh, who is himself a Sikh, spoke of his shock on Monday at the shooting.
"That this senseless act of violence should be targeted at a place of religious worship is particularly painful," Mr Singh said.
Dozens of Sikhs have protested over the shootings in the Indian cities of New Delhi and Jammu.
Police in New York and Chicago said they had taken extra measures to monitor Sikh temples in those cities.
Wisconsin, which passed a law in 2011 allowing citizens to carry a concealed weapon, has some of the most permissive gun laws in the US.
The shooting follows the massacre of 12 cinema-goers by a gunman in Colorado last month.