Vermont farmer in tractor crushes seven police cars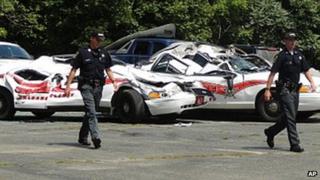 A farmer in the US state of Vermont who was facing a minor drugs charge is now in more serious trouble after driving a tractor over seven police cars.
Roger Pion crushed the county sheriff's cruisers on Thursday before making his getaway on the farm vehicle.
The 34-year-old was stopped by police in Newport city, northern Vermont, not far from the crime scene.
Sheriff's deputies were unaware of the destruction in their department car park until a resident called 911.
'Monster jam rally'
Orleans County Sheriff Kirk Martin said they were initially unable to give chase as their cars had been wrecked.
No-one was injured in the incident.
Rene Morris, who saw the crash, told a local news station: "I felt like I was in a monster jam rally or something.
"I just couldn't believe it, just backing up going over it, turns around makes his way to the other vehicles smashes those up."
Mr Pion was detained last month accused of resisting arrest and marijuana possession, said police.
He was in custody on Thursday evening, facing a number of additional charges.