Solyndra: Republicans say warning signs 'ignored'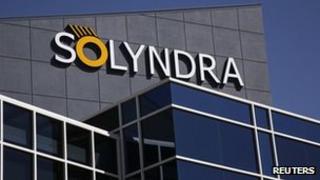 The Obama administration missed warning signs a solar-panel maker receiving federal loans was in financial trouble, a Republican-led report has found.
The House Energy and Commerce Committee review took 18 months and reviewed over 300,000 documents.
Solyndra received more than $500m (£322m) of loans in 2010 before the firm closed and laid off 1,100 people.
But Democrats said the study contained "obvious inaccuracies... [and] frequent mis-statements".
They said the report did not support Republican claims that Solyndra was favoured during the loan approval process.
'Mistake'
According to the report, the White House ignored advice from its own analysts to pull out of its investment in Solyndra and instead restructured the company's debt, increasing the government's loss.
The 147-page report points to advice from the Office of Management and Budget, which said in January 2011 that the government would get more of its money back if it let the company go bankrupt.
"Solyndra was a mistake that would have been much smaller if, in fact, career professionals had not been over-ruled," said California Representative Darrell Issa, Republican chairman of the House Oversight and Investigations Committee, which held hearings on the Solyndra case.
The Obama administration also rushed into the deal, the report concluded.
But Democratic members of the House committee released a statement saying the report's findings were "partisan and one-sided".
"It does not substantiate the primary allegation that motivated the committee's Solyndra investigation, which is that the loan guarantee decision was a form of political payoff to a campaign contributor," the statement said.
Correspondents say Republicans have held up Solyndra as an example of a failed energy policy under President Barack Obama.
Before it collapsed Mr Obama visited the company's factory and cited the loan programme as a way to create new jobs in the renewable energy sector.
The FBI and the Energy Department's Inspector General are conducting an independent review of Solyndra, but it is not clear when its findings will become available.