Obama signs order to 'support Syrian rebels'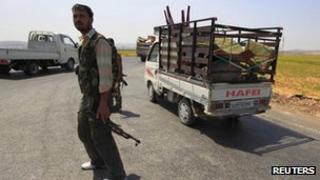 US President Barack Obama has signed a covert order authorising support for Syrian rebels, US media report.
Approved earlier this year, the directive permits the CIA and other US agencies to provide assistance to help oust Syrian President Bashar al-Assad.
The US appears to be stopping short of directly arming the Free Syrian Army.
The Obama administration has said publicly it is offering support to the rebels, including $25m (£16m) of "non-lethal" assistance.
The state department aid mostly funds the supply of communications equipment such as encrypted radios.
But it is not clear what type of support is authorised by the secret order, known as an intelligence finding, which was reported by Reuters news agency.
A US Senate panel on Wednesday heard foreign policy experts urge the Obama administration to consider arming Syrian rebels.
Some US lawmakers, such as Republican Senator John McCain, have criticised Mr Obama, arguing the US should become directly involved in arming Mr Assad's opponents.
Reuters also reports that the US is collaborating with a secret command centre operating near the Syrian border, set up by Turkey and its allies.
And the US Department of the Treasury approved a licence last week allowing the Washington Syrian Support Group, a non-profit organisation, to provide direct financial assistance.
Mr Obama previously signed a document to authorise covert assistance to rebels fighting against former Libyan leader Muammar Gaddafi.