Three planes in near miss at Washington airport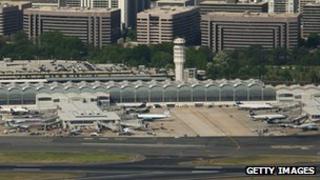 US air safety regulators are investigating how three planes narrowly avoided a midair collision near Ronald Reagan Washington National Airport.
The Federal Aviation Administration (FAA) said bad weather and a switch of the landing runway led to a miscommunication on Tuesday afternoon.
The incident was first reported by the Washington Post, which said all three planes were operated by US Airways.
Officials vowed "appropriate action to address the miscommunication".
During a conference call with reporters on Thursday, FAA administrator Michael Huerta acknowledged the planes had been too close, but said they were not on a collision course.
An audio recording of discussions between the landing plane and the airport's traffic control tower shows the confusion.
At about 14:00 local time (19:00 GMT) on Tuesday, the air control tower ordered the landing plane to make an abrupt turn to the south.
"We were clear at the river back there," a person in the plane's cockpit says to the control tower. "What happened?"
The tower answers: "We're trying to figure this out, too. Stand by."
The FAA said preliminary information showed the landing plane came within 500ft (150m) vertical separation and 1.7 miles (2.7km) of one departing plane and 600ft and 2.8 miles of the second plane.
The standard separation requirement is 1,000ft and 3.5 miles.
In March 2011, two jets landed without assistance from the Reagan National Airport's control tower after a supervisor fell asleep.
After the incident, an additional controller was added to the midnight shift at the airport.