San Bernardino in California files for bankruptcy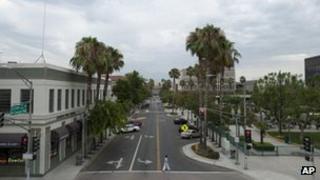 The California city of San Bernardino has filed for bankruptcy protection amid a $46m (£30m) budget deficit and ongoing criminal investigations.
The city listed assets and debts of over $1bn, court documents show, and becomes the third in the state to go bust in just over one month.
Mayor Patrick Morris said San Bernardino filed for Chapter 9 to avoid legal action from creditors.
In June, Stockton filed for bankruptcy, followed by Mammoth Lakes in July.
The city council of San Bernardino approved the decision to file for bankruptcy protection last month.
'Remarkably sobering'
The city's mayor confirmed the bankruptcy and told local media of his feelings at being tasked with filing the papers.
"It's remarkably sobering to walk in that door, and to put that in the clerk's hand is a moment that gives one great pause," Patrick Morris told the Inland Valley Daily Bulletin.
But he defended the move to file for bankruptcy protection, saying: "It was simply a filing for the purpose of avoiding any possible seizure by litigants of our liquid assets."
Meanwhile, Acting Assistant City Manager Gwendolyn Waters said the legal procedures should not have an immediate impact on the city of about 210,000 people.
Ms Waters said there were no current plans to scale back public services, but added that a proposal of budget cuts would be laid out within three weeks and those plans could include cuts.
The city has already reduced its workforce by 20% over the last four years, Bloomberg reported.
Analysts say the development is indicative of the deep blow dealt to US states by the financial crisis.
San Bernardino, located 60 miles (96km) east of Los Angeles, was pummelled by a foreclosure crisis spawned by the housing crash, a now-familiar story.
As well as having an estimated 5,000 homes repossessed, San Bernardino is struggling with an unemployment rate close to 16%, almost double the national average.
Stockton - a city of nearly 300,000 in California's Central Valley - filed last month for bankruptcy amid a $26m budget gap.
It was followed by Mammoth Lakes, a ski resort of about 8,000 residents, which was saddled with a $43m legal judgment.
Before Stockton, a Californian city had not filed for bankruptcy since Vallejo in 2008.