China activist Chen Guangcheng seeks US action on case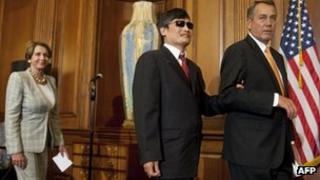 Chinese activist Chen Guangcheng, who arrived in the US in May, has urged Washington to investigate his case and protect his family at home.
Speaking after meetings in the US Congress, Mr Chen said Beijing had not fulfilled guarantees made to him when he left China.
Mr Chen sparked diplomatic tensions when he escaped house arrest and fled to the US embassy in Beijing in April.
The blind campaigner arrived in the US in May after negotiations.
The 40-year-old moved with his wife and two children, but has expressed concerns about the friends and family he left behind.
His nephew, Chen Kegui, has reportedly been arrested and charged with manslaughter after a dispute with local officials who came looking for Mr Chen following the escape from house arrest.
'Cannot be silent'
"The Chinese central government explicitly promised me that it would thoroughly investigate the extended oppression and abuse that I endured in Shandong province," Mr Chen told a news conference.
"The government further promised to provide for the security of my family. However, it has been more than three months and I have not received any news on the progress of this investigation or even whether it has commenced," he said.
Mr Chen was flanked by the speaker of the House of Representatives, Republican John Boehner, and his Democratic counterpart, Nancy Pelosi, who both said they intended to pressure China to improve its human rights record.
"We can't remain silent when fundamental human rights are violated, we can't remain silent when religious liberty remains under attack, we cannot remain silent regarding China's reprehensible one-child policy," Mr Boehner said.
Speaking afterward, Ms Pelosi said: "I don't often say this, Mr Speaker, but I do wish to associate myself with your remarks."
The BBC's Adam Brookes in Washington says that Mr Chen has many sympathisers in the US Congress - but like many exiled Chinese dissidents before him, he may find it hard to effect the change he seeks in his home country.
Mr Chen was sentenced to more than four years in prison in 2006 after exposing abuses in China's one-child policy. He was released in 2010 but later put under house arrest.
The Chinese authorities have allowed him to leave the country to study at New York University School of Law.