Needle found in Air Canada sandwich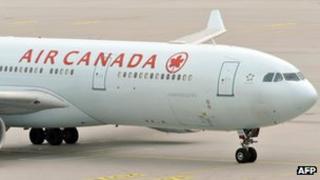 A passenger found a sewing needle in a catered sandwich on a flight, Air Canada has said.
Police are invesigating the incident, which occurred on Monday aboard a flight from Victoria, British Columbia, to Toronto.
Last month, needles were found in turkey sandwiches on Delta Air Lines flights from Amsterdam to US cities.
Dutch police say it is too early to rule out a copycat or link with the Air Canada discovery.
Peter Fitzpatrick, a spokesman for Air Canada, said late on Tuesday that the airline was "working closely with our caterers to ensure heightened security measures have been put in place".
In July, suspected sewing needles were found in six sandwiches on Delta Air Lines flights from Amsterdam to Minneapolis, Seattle and Atlanta. Passengers discovered four of them.
The FBI is also investigating those incidents, which left one passenger injured.
The Delta Air Lines snacks had been prepared by the Amsterdam-based Gate Gourmet.
The company said it is one of the caterers that serve Air Canada but not the airline's provider out of Victoria, from where Monday's flight took off.
Gate Gourmet spokeswoman Christina Ulosevich said: "We are co-operating fully with Air Canada and have complied with our customer's request to its caterers to heighten food safety procedures, including inspection and screening of all products boarded on flights."
Dutch police officer Robert van Kapel said on Wednesday that investigators had been interviewing witnesses in the chain of people who had access to the Delta sandwiches.