Palestinians attack Mitt Romney for 'racist' comments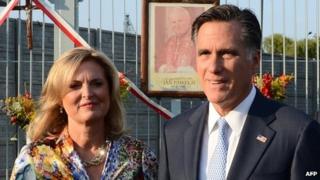 Mitt Romney has been accused of racism for suggesting to Jewish donors that "culture" might explain Palestinians' income inferiority to Israel.
A senior Palestinian aide said the Republican presidential candidate had failed to note economic restrictions placed by the Israeli occupation.
But the Romney campaign said his remarks in Israel were misinterpreted.
The former Massachusetts governor is now in Poland, for the third and final leg of a week-long foreign tour.
Mr Romney is set to face Barack Obama in November's presidential election.
'Hand of providence'
Speaking at a breakfast of about 40 donors in Jerusalem on Monday, Mr Romney said he had thought about how Israel had achieved greater prosperity than its neighbours.
"As you come here and you see the GDP [Gross Domestic Product] per capita, for instance, in Israel which is about $21,000 dollars, and compare that with the GDP per capita just across the areas managed by the Palestinian Authority, which is more like $10,000 per capita, you notice such a dramatically stark difference in economic vitality," Mr Romney is reported to have said.
He referred to a book called The Wealth And Poverty Of Nations, by David Landes, which examines how some societies became more prosperous than those of their neighbours.
Mr Romney said he had concluded from the book that "if you could learn anything from the economic history of the world it's this: culture makes all the difference.
He added: "And as I come here and I look out over this city and consider the accomplishments of the people of this nation, I recognise the power of at least culture and a few other things."
Mr Romney also said he recognised "hand of providence in selecting this place [Israel]".
The economic disparity between Israel and the Palestinian Authority is even wider than Mr Romney's remarks suggest.
According to a World Bank report, in 2011 Israel's GDP was $31,000 per head, compared with just over $1,500 in the West Bank and Gaza.
'Scratching their heads'
Saeb Erekat, an aide to Palestinian Authority President Mahmoud Abbas, responded quickly to the comments.
"It is a racist statement and this man doesn't realise that the Palestinian economy cannot reach its potential because there is an Israeli occupation," Mr Erekat said.
"It seems to me this man lacks information, knowledge, vision and understanding of this region and its people.
"He also lacks knowledge about the Israelis themselves. I have not heard any Israeli official speak about cultural superiority," he added.
Romney campaign spokeswoman Andrea Saul said his remarks had been "grossly mischaracterised".
His campaign added that the candidate's comments had been more general and had included examples of income disparities between the US and Mexico, and Chile and Ecuador.
Meanwhile, a White House spokesman said Mr Romney's comments had left some people "scratching their heads a little bit".
At the breakfast, Mr Romney sat next to casino billionaire Sheldon Adelson, who has given millions of dollars to Republican presidential campaigns.
The owner of the American football team New York Jets, Woody Johnson, and hedge fund manager Paul Singer were also guests at the breakfast, which is thought to have raised about $1m.
Deputy Israeli Foreign Minister Danny Ayalon came to Mr Romney's defence.
"It is unfortunate that the Palestinians find every reason and opportunity to discomfit or to criticise or to attack Israel or anyone who pays respect to Israel and Jewish culture," he said, reports the Associated Press.
On Sunday, Mr Romney caused controversy when he described Jerusalem as the country's capital.
He said in an interview with CNN that he would favour moving the US embassy to Jerusalem from Tel Aviv, where it is currently located.
The status of Jerusalem is a key issue in peace negotiations between the Israelis and the Palestinians.
Mr Romney's visit to Israel followed a three-day visit to London. There, he was criticised in the British press for expressing doubt about whether Britain was ready to stage the Olympic Games.