Amazon's Jeff Bezos backs US gay marriage law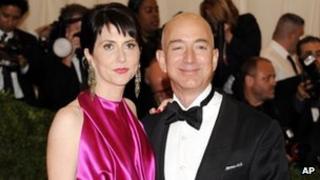 The founder of Amazon.com and his wife are donating $2.5m (£1.6m) to defend a gay marriage law passed in the US state of Washington.
Jeff and MacKenzie Bezos are the latest wealthy backers, joining Microsoft CEO Steve Ballmer and co-founder Bill Gates, who each gave $100,000.
Washington is one of four states facing a November referendum on gay marriage.
The law, due to come into effect on 7 June, was put on hold after a petition to vote on Referendum 74 succeeded.
Opponents gathered more than 240,000 signatures in a bid to overturn the law signed in February by Governor Chris Gregoire.
Same-sex marriage is legal in eight US states and the District of Columbia.
The laws are being challenged in Washington and Maryland. The state of Maine is voting to reinstate gay marriage laws that were passed but later overturned, and Minnesota is considering a constitutional ban on gay marriage.
Previous gay marriage laws or constitutional amendments have been defeated in 32 state elections across the US.
But President Obama lent his support earlier this year, saying he was now in favour of same-sex weddings.
'Tipping point'
A campaign manager for Washington United for Marriage called the Bezos donation a "game-changer" in their fight to keep the law in place.
"They understand what's at stake for Washington families and what's at stake for the country," Zach Silk told the Associated Press.
"We're at a tipping point, and they really understand this is an historic moment, and they want to be on the right side of history and want to make history."
The law is opposed by Preserve Marriage Washington, a group which says on its website that "marriage is a unique institution that is profoundly in the common good", their website says.
Washington voters will be asked to vote "yes" to uphold the law or "not" to overturn it.
Mr Bezos, 48, is ranked by Forbes magazine as the 15th wealthiest person in the US, with a personal fortune of $18.4bn as of March 2012.
Meanwhile, a group of pro-Republican hedge fund managers have also given money to the campaigns supporting same-sex laws in the four states that are to vote in November, the Financial Times reported on Tuesday .
Among them are Dan Loeb, a major shareholder of Yahoo; and Paul Singer, founder of Elliott Management and a notable Republican Party donor. They are reported to have supported Freedom to Marry, a group in favour of legalising same-sex marriage, the newspaper says.
They are also said to have contributed to American Unity, a political committee founded by Mr Singer, that gives financial backing to Republicans running for Congress who support same-sex marriage.