Have Americans lost their taste for more and more stuff?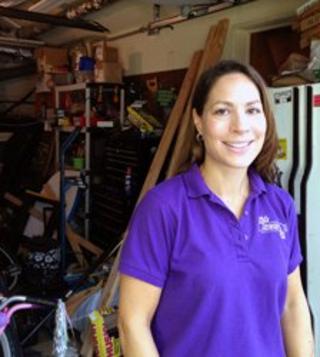 Americans are drowning in material possessions. But have years of economic stagnation tempered the US consumer's habit of accumulating ever more stuff?
In a sun-dappled patch of suburbia just outside the town of New Brunswick, New Jersey, Taryn Lamb peers into her latest client's cluttered garage.
From the ceiling hang fishing rods. Bikes - six or seven within view - hang from the walls and obscure the floor. At the back she sees something she thinks may be a roof-rack for kayaks.
DIY equipment, gardening tools, two big tool boxes, a fridge, sets of folding chairs, a leaf blower, and what looks like a lavatory fill the rest of the space.
The car was banished from this garage long ago.
Ms Lamb is a professional home organiser. Her clients pay her a hefty fee to grapple with a crisis of excess: they have shopped themselves out of space.
"When you need to find what you need, at that point the stress comes in," she explains.
She describes the thinking: "'I know I have it here somewhere, I thought it was over here, I don't see it, where could it be? Oh, I am going to go out to Home Depot and buy another one.'"
That pattern has packed America's garages with now-dusty and defunct consumer items for decades.
Scaling down
But Americans might just be kicking the habit. Because while manufacturing is picking up and property sales and construction are both coming up off the floor, US retail spending remains distinctly shaky.
Spending fell in June, down 0.5% from May, and the spring numbers were the worst since the dark days of late 2008. The fall in sales is expected to hinder economic growth.
Ken Goldstein of the Conference Board, a group that monitors consumer sentiment, sees a huge change in Americans' spending habits.
In 2005, the personal savings rate in the US was 1.5%, compared to Japan's 15%. Today, Americans are saving about 4% of their personal income, according to the US Bureau of Economic Analysis.
"It has been an absolutely fundamental shift in consumer behaviour, coming in no small part from an absolutely fundamental shift in where consumers think they are and where they think they can expect to be, not just six months from now but five years, 10 years down the road," Mr Goldstein says.
Meanwhile, Debbie Cohn is making final preparations for the annual second-hand sale she organises to raise funds for the Anshe Emeth Memorial Temple.
Rows of tables piled with neatly folded second-hand clothes run the length of one of the synagogue's function rooms.
"People have so much," she says. "Nobody needs so much. We all have too much stuff."
But Ms Cohn has noticed a change in the way that people shop.
"There are a lot of people that are shopping down now," she says. "If they used to go Macy's, now they got to Kohl's. If they used to go to Kohl's, now maybe they might actually be coming here.
"I see a lot of people here - they are clearly middle-class people, they have embraced the idea of scaling down and looking for a bargain."
Maybe America's decades-long buying binge is drawing to a close - or at least shoppers are taking a breather.
It is hard to believe, so ingrained is shopping and consuming in the American way of life. But, says Mr Goldstein of the Conference Board, there has been a shift.
"It's like that play Waiting for Godot," he says. "Anybody who has seen the play knows, by the time the curtain comes down, Godot never arrives.
"I'm not saying that the consumer will never arrive. But don't hold your breath."