Life term for Jennifer Hudson family's killer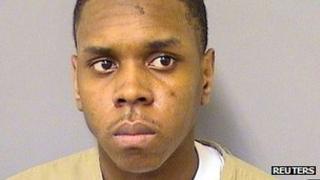 A man who killed the mother, brother and nephew of actress Jennifer Hudson has been sentenced to life in prison.
A Chicago judge handed down three life sentences to William Balfour, who was convicted of murder in May.
Oscar-winner Hudson was present at the sentencing hearing.
During the trial, prosecutors argued that Balfour shot the three members of her family after his estranged wife, Ms Hudson's sister Julia, refused to reconcile with him.
The judge had previously denied Balfour's request for a new trial.
He faced a life sentence as the state of Illinois does not allow the death penalty.
'Terrible loss'
The jury deliberated for three days before returning a guilty verdict over the 2008 deaths of Darnell Donerson, Jason Hudson, and seven-year-old Julian King.
Ms Hudson was the first witness called in the trial and attended every day of testimony.
During the sentencing, Judge Charles Burns said Balfour's crimes "send a chill through all of us".
Judge Burns was also upset by Balfour's earlier statement that he still loved Julian, the seven-year-old.
"The fact that you can stand in court and tell us you love that child is an insult to all of us," Judge Burns said, according to the Chicago Tribune.
"There's no doubt in my mind he looked up to you as you were putting bullets into his head," he said. "I just hope his terror was short-lived."
In May, Ms Hudson and her sister released a statement saying "we have all suffered terrible loss in this tragedy".
"It is our prayer that the Lord will forgive Mr Balfour of these heinous acts and bring his heart into repentance someday," the sisters said.