Two killed in shooting at Toronto barbecue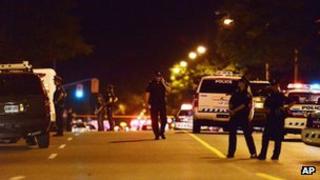 Two people, including a teenage girl, have been killed after gunfire broke out at a barbecue in Toronto, Canadian police have said.
At least 24 others were injured when shots were fired in a crowd of about 200 people late on Monday.
Police suspect more than one shooter was involved in the confrontation, the cause of which is unknown.
City Police Chief Bill Blair said it was the most serious crime of its kind to have taken place in the city.
Police named the two victims as Shyanne Charles of Toronto and Joshua Yasay of Ajax.
Of those injured, 23 had gunshot wounds and one person was trampled.
'Screaming terrified'
"An altercation broke out among some individuals and there was an exchange of gunfire. During that gunfire a number of innocent bystanders were struck," Mr Blair told the Associated Press news agency.
"It's a very shocking event, a lot of people were injured tonight."
The incident took place at about 23:00 (03:00 GMT) local time at the party on Danzig Avenue, in the city's east end.
Police said they had identified one person of interest, and were looking for other suspects. One weapon was found at the scene, but police believe more than one gun was involved.
One of the wounded was an infant, but Mr Blair said the child's injuries were "not life-threatening".
A local resident said she had heard about 15 gunshots, before seeing people running past her house.
She said she called three girls into the house as they ran past "screaming terrified", including one, a 14-year-old, who had been shot in the arm.
"First I thought it was fireworks because they were having a big party outside and then I realised it was gunshots," she told the BBC.
Police have appealed for information from the public over the incident, which comes just weeks after a deadly shooting at the city's main shopping centre.
Two people were killed and several others were wounded in that attack.
On Tuesday, Mayor Rob Ford said the incidents were isolated and unfortunate and called his city "the safest city in North America".
"I assure you, Toronto is not like Detroit," he told the Globe and Mail . "People should come here and enjoy this great city."
Gun ownership in Canada has been subject to licensing since the 1970s, and firearms crime has generally declined over the years. But the frequency of shootings has risen sharply this year, according to local media.