Mitt Romney labels Obama campaign attacks 'dishonest'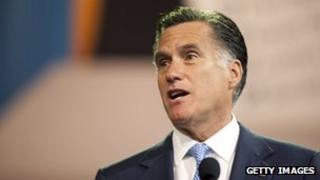 Republican presidential candidate Mitt Romney has called on the Obama campaign to back away from "dishonest" attacks about his time at Bain Capital.
Mr Romney said in a nationally televised interview President Barack Obama should focus on his own record.
The president says his rival's time at the private equity firm is fair game.
Mr Obama returned to the swing state of Ohio later on Monday, while Mr Romney joined Louisiana Governor Bobby Jindal on a fundraising trip.
With November's election looming, the campaigns have stepped up efforts to criticise each other's records, but recent polling suggests the race is fairly close.
'Very proud'
Mr Romney's appearance on Monday follows a barrage of interviews on Friday. In those interviews he responded to reports that he was still listed on Bain's regulatory filings a couple of years after he said he left the company to run the 2002 Salt Lake City Winter Olympics.
The timing is key because Bain was responsible for closing down American firms and shipping jobs overseas between 1999 - when Mr Romney said he left the company he founded - and 2001.
In Monday's interview on Fox News TV Mr Romney did not call for an apology from the president, but said he was "very proud of the record I had in my business career".
Labelling the Obama campaign's attacks "dishonest", Mr Romney said: "What does it say about a president whose record is so poor that all he can do in this campaign is attack me?"
"I think when people have accused you of a crime, you have every reason to go after them pretty hard."
On Sunday Romney adviser Ed Gillespie said the one-time Massachusetts governor has "retired retroactively" from Bain.
"He ended up not going back to the firm after his time in Salt Lake City. So he was actually retired from Bain."
Bain said in a statement that Mr Romney "remained the sole stockholder" while ownership of the company was being transferred to a new management team.
'Secretive campaign'
The Romney campaign has denounced suggestions from some Democrats that if there is a discrepancy the former Massachusetts governor could be exposed to serious criminal charges.
Among the criticisms, Democratic National Committee chair Debbie Wasserman Schultz called the Romney campaign "secretive" and suggested Mr Romney's team "put their big boy and big girl pants on and defend his record".
Meanwhile, the former Massachusetts governor refuses to meet critics' demands that he disclose his full financial history.
His 2010 return has been released, and Mr Romney has pledged to release his 2011 filing - but insists he will not release any more.
Mr Romney filed for an extension with the Internal Revenue Service, allowing him to file this year's taxes after the April deadline.
A Romney video released on Monday suggested Obama campaign donors would be rewarded by the president's policies.
Yet there is no sign that the Obama campaign will relent in its criticism of Mr Romney and Bain.
"No, we will not apologise," Mr Obama said in an interview aired on CBS on Monday, adding that if Mr Romney wanted to run on his record of business leadership, he needed to take responsibility for it.