UN 'reliant on private security firms'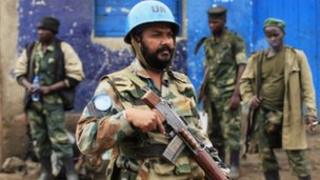 The UN is becoming increasingly reliant on private military and security firms, according to a report.
The Global Policy Forum says that the UN's use of these private companies is "dangerous" and suggests a system that is "unaccountable".
It says that according to available - though incomplete - data, there was a 77% increase on amounts spent on such firms in the year to 2010.
A UN spokesman said that the use of such contractors was "appropriate".
Martin Nesirky said that he believed that the UN could continue to employ security firms as long as "due diligence" was carried out.
He said that the UN was working on a policy for security contractors that could be implemented across the organisation, a draft version of which had already been approved by security chiefs.
"UN contracting policies have improved and we need to continue to improve them," he told the Associated Press news agency.
"The distinct differences in the ways that private security contractors go about their work also must be borne in mind."
'Variety of risks'
According to the report, entitled Dangerous Partnership: Private Military & Security Companies and the UN , the amount spent on such firms by the UN went up from at least $44m (£28.2m) in 2009 to $76m in 2010.
The majority of contracts in 2010 were for activities by the UN Development Programme, with a total cost of $30m, with other major sections including $18.5m for UN peacekeeping operations and $12.2m for UN refugee activities, it said.
Such contractors, the report says, can present a variety of risks to UN operations, including the carrying of heavy automatic weapons and provocative and aggressive behaviour that can lead to violence.
"Armed security contractors can also smuggle weapons into conflict zones and sell them or make them available to parties to the conflict, as has happened in Bosnia, Sierra Leone, Afghanistan and Somalia," the report warns.
It adds that the use of security firms has increased what it calls the "bunkerisation" of UN compounds, cutting staff off from the broader population they are supposed to protect.
"UN security officials themselves cannot give an estimate of total security contracting within the UN system or a complete list of companies hired. This suggests a system that is unaccountable and out of control," the report says.
The report names Dyncorp, Saracen and G4S as private security firms employed by the UN.
Dyncorp, it says, had contracts totalling some $3m with the UN in 2010 and Saracen was hired in Uganda to provide security services to the Monusco peacekeeping mission in the Democratic Republic of Congo in 2010 and 2011. Meanwhile, G4S and its subsidiaries, including Armor Group, had UN contracts worth almost $3m, the report says.
These firms have yet to comment on the figures put forward by the Global Policy Forum.