US has hottest year since 1895, say scientists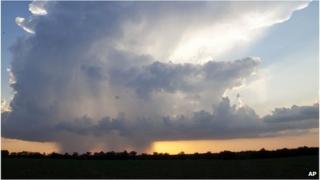 The last year in the continental US has been the country's hottest since modern record-keeping began in 1895, say government scientists.
The National Oceanic and Atmospheric Administration (NOAA) also said the US had broken its record for the hottest six months in a calendar year.
One of the agency's weather experts suggested climate change was playing a role in the hot temperatures.
A recent 11-day heatwave in the US has claimed at least 46 lives.
A cold front moved in to the US Midwest and East Coast late on Sunday, ushering in much-desired cooler weather across the region.
But forecasters say hot weather could now affect the western US and Canada, where Ontario has been experiencing record-breaking temperatures.
Climate change?
According to the NOAA's National Climatic Data Center , more than 170 all-time hot weather records were broken or tied during the second half of June.
However, it was still only the 14th hottest June on record - the hottest being June 1933, during the Dust Bowl period.
The previous hottest year was the 12-month period that ended in May 2012.
Jake Crouch, a scientist at the National Climatic Data Center, told Reuters news agency: "It's hard to pinpoint climate change as the driving factor, but it appears that it is playing a role.
"What's going on for 2012 is exactly what we would expect from climate change."
After 10 consecutive days of triple-digit temperatures, a cold front lowered the mercury by some 15F (9.5C) as it moved on Sunday night across the South and mid-Atlantic.
Many of the recent weather-related deaths were reported to involve elderly people stuck in homes without air conditioning because of ongoing power cuts.
Ten deaths in Chicago were blamed on the heat, and at least 10 each in the eastern states of Virginia and Maryland.
Three each died in Wisconsin, Ohio and Pennsylvania, and two in Tennessee.
A four-month-old girl died after being left in a car for "an extended period" outside her home in Greenfield, Indiana.
On Saturday temperatures reached 105F in Washington DC - just short of the hottest ever recorded in the city.
On the same day it was 107F in St Louis, Missouri, which also extended its record for consecutive days over 100F to 10.
Hundreds of thousands of people from Indiana in the Midwest to Maryland on the East Coast are still enduring power cuts caused by storms that swept through the area more than a week ago.
Storms in New Jersey on Saturday night knocked out power to another 70,000 households.