Utah tombstone kills US four-year-old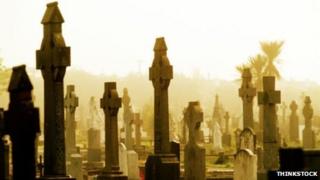 A four-year-old was killed after a large tombstone fell and hit him at a historic cemetery in the US state of Utah.
Officials are investigating how the 6ft (1.8m) stone fell on Carson Dean Cheney, who lives an hour away in Lehi.
He was trapped before family members were able to free him, police officials told the Salt Lake Tribune.
"This tragic accident has taken the life of our energetic, sweet, beloved little boy," his family said.
The boy was taken to a nearby hospital, where he later died of his injuries.
Glenwood Cemetery was founded in 1885 by a society of silver miners, Bruce Erickson, president of the cemetery association told the Associated Press.
It still accepts the rare burials of those connected to the society. However, no funeral was taking place when the boy was visiting.