George Zimmerman leaves jail on second bail of $1m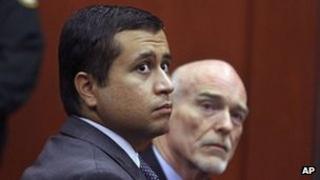 The US neighbourhood watch volunteer who shot an unarmed black teenager in Florida has left jail after a judge set a second bail at $1m (£650,000).
George Zimmerman is charged with second-degree murder over the death of 17-year-old Trayvon Martin in February.
Mr Zimmerman's first bond of $150,000 was revoked after prosecutors said he misled the court over his finances.
Earlier on Friday, Martin's mother said she was disappointed with the decision to offer Mr Zimmerman a second bail.
In a press conference on Friday, Sybrina Fulton said that knowing the man who shot her son "may walk free sometime, one day, it really hurts".
Mr Zimmerman left Seminole County jail less than 24 hours after a judge reposted his bail.
One of Mr Zimmerman's defence lawyers, Don West, said: "He's very happy to be out. Certainly it's been a sobering experience being in that kind of environment."
Tighter security restrictions were imposed on the defendant ahead of his second release, including electronic monitoring and a ban on leaving the county, while keeping away from Orlando international airport.
Mr Zimmerman's wife, Shellie, has been charged with perjury after prosecutors alleged that in phone calls while her husband was in jail the couple talked in code about transferring funds between accounts.
A website set up to attract donations to pay for Mr Zimmerman's defence was believed to have raised about $135,000 at the time of his first bail hearing, but prosecutors argued that his wife did not mention the money and maintained the couple had limited resources.
At the second bail hearing on Thursday, Judge Kenneth Lester said: "Under any definition, the defendant has flaunted the system."
The racially charged Trayvon Martin case has divided the US.
Mr Zimmerman has said he shot Martin in self-defence during a fight on the ground.
Florida police did not arrest Mr Zimmerman for six weeks after the shooting. Under the state's controversial "stand your ground" law, the use of lethal force is allowed if a person feels seriously under threat.