Independence Day plans hit by US power cuts and heat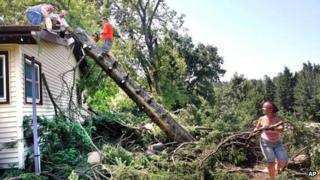 Nearly one million people went without power on Independence Day as utilities worked to restore service five days after severe storms hit the eastern US.
Residents without air-conditioning or working refrigerators faced searing heat in the storm's wake.
Some towns cancelled firework displays marking the national holiday, saying police and firefighters could not be spared as repair work continued.
Some customers were expected be without power until the weekend.
However, Washington and Maryland electricity provider Pepco brought some cheer to its stricken customers on Thursday, predicting 90% restoration by the end of the 4 July holiday - two days ahead of its initial estimate.
"We were able to get more mutual assistance crews from out of state than we expected, and we thank our employees and local contractors for their tireless work," the company said .
The damage was mostly blamed on a meteorological phenomenon known as a derecho, which saw hurricane-force winds buffeted ahead of fast-moving thunderstorms.
The derecho brought down trees and power lines, leaving three million people without electricity in the wake of the storm.
'Dangerously hot'
The extreme heat, which continued over the following days, was blamed for 24 deaths in seven states. Two additional deaths were reported on Wednesday.
The National Weather Service has issued excessive heat warnings for parts of Ohio, Kentucky, Minnesota, Wisconsin, Missouri, Nebraska, Iowa, South Dakota, Illinois, Michigan, Indiana, New Jersey, Pennsylvania and Delaware.
It warned that "a prolonged period of dangerously hot temperatures will occur", and advised residents to wear loose-fitting clothes, drink plenty of water and check up on friends and neighbours.
Heat indices could climb to 105F (41C) in some affected areas, the warning said.
In Maryland, the town of Rockville cancelled its official celebrations because of trees and wires blocking two of three entrances to the venue. In Gaithersburg the city manager said utility companies were using its fairgrounds as a staging area for repairs.
Utility regulators in Maryland and the District of Columbia said they were partly to blame for the slow restoration of service to customers, the Washington Post has reported .
Regulators should have required power companies to meet higher standards, Douglas Nazarian, chairman of Maryland Public Service Commission said.
Meanwhile, the state of West Virginia was reported to have the largest number of people stranded without power. About 317,000 people did not have electricity, the US Department of Energy said on Wednesday morning.
West Virginia officials asked residents not to set off fireworks at home because the high temperatures increased the risk of fire in many places. Fallen trees that have not yet been removed could add to the hazard, they said.
Further west, Colorado was one of several states hit by destructive wildfires rage in recent weeks that are scrapping their firework displays too, amid fears that dry grass could become tinder for wildfires.
Festivities were planned to go ahead on the National Mall in Washington DC, and at George Washington's historic home at Mount Vernon, Virginia.