Mammoth Lakes becomes second bankrupt Californian town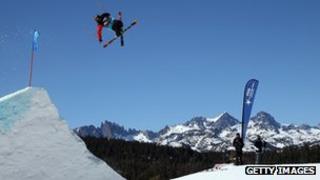 The ski resort town of Mammoth Lakes has voted to become the second California local government to file for bankruptcy.
The town of 8,000 in the Sierra Nevada mountains is facing a bill of $43m (£28m) for a botched development agreement more than twice its budget.
Mammoth Lakes also faces a deficit in its general fund of up to $2.5m.
The filing comes days after Stockton became the largest US city to go bust since Cleveland, Ohio did so in 1979.
Stockton, California, faces a projected $26m budget shortfall.
While under bankruptcy protection, Mammoth Lakes police and fire services will remain intact, town officials say.
In 2008, the California Supreme Court ordered the town to pay its largest creditor, Mammoth Lakes Land Acquisition.
The town, about 300 miles (483 km) north of Los Angeles, had tried to back out of a 1997 agreement that gave a developer the right to build a hotel and buy land in return for improving the local airport.
The $30m judgement grew to $43m from interest and legal fees before Mammoth Lakes lost its final appeal.