US storm-hit millions swelter in heatwave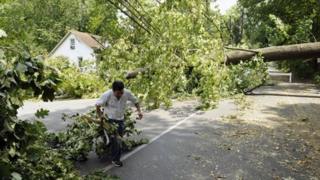 Almost two million people remain without power in the eastern US following storms that have been blamed for 22 deaths since Friday.
Amid an ongoing heatwave, utilities warned it could take several more days to restore electricity in many places.
Maryland, West Virginia, Virginia, Ohio and the District of Columbia declared states of emergency over the weekend.
Power failures persisted on Monday from North Carolina to New Jersey, and as far west as Illinois.
More than 300,000 customers in Washington DC and the areas of Virginia and Maryland on its perimeter remained without power late on Monday, the Washington Post reported .
Although temperatures dropped slightly on Monday, they continue to nudge 100F (38C), and many householders have no functioning air conditioning or refrigerators.
Officials are urging residents to check up on elderly or sick neighbours.
Bob Ambrosini, who had no power at his home in the US capital's suburb of Great Falls, told the Washington Post : "I've been living in the swimming pool."
Melissa Kitner-Triolo told the Baltimore Sun the storm was "pretty terrifying".
"I think it was one of the worst storms we had, as far as how quickly it came up," she said.
Heat advisories are in effect for parts of 17 states, with forecasters saying there is no relief in sight: "Hot and hotter will continue to be the story from the plains to the Atlantic Coast for the next few days," the National Weather Service said.
The city of Athens, Georgia reached an all-time high of 108F (42C) on Sunday.
The Monday morning commute was less busy than usual around the metropolitan Washington DC area as federal and state agencies allowed non-emergency workers to take leave or work from home.
But hundreds of traffic lights were still not working in Maryland because of power failures.
The damage was mostly blamed on a meteorological phenomenon known as a derecho, where hurricane-force winds are buffeted ahead of fast-moving thunderstorms.
It swept a 500-mile (800km) swathe of the mid-Atlantic region on Friday night.
Another storm on Sunday brought wind gusts of up to 90 mph (145 km/h) and knocked out power to more than 200,000 people in north-eastern Illinois. Half of those remained without power on Monday.
Trees falling on homes and cars have been blamed for most of the extreme weather-related deaths.
Among the six people killed in Virginia was a 90-year-old woman who was asleep in bed when a tree fell on her home.
Two young cousins camping in New Jersey died when a tree collapsed on their tent. Two others died in Maryland, one in Ohio, one in Kentucky and another in Washington DC.
In other fatalities:
The Coast Guard have abandoned the search for a man who vanished early on Saturday while boating during a storm off Maryland
A 77-year-old man died on Sunday night in Pitt County, North Carolina when a barn collapsed where he was parking a vehicle amid high winds
A tree killed a couple when it hit their golf cart in Beaufort County, North Carolina
Emergency dispatchers were unable to take 911 calls in parts of Virginia during the storm. A phone company spokesman told CBS News that the storm had affected power to the call-routing facility.
Utility workers have been drafted in from as far away as Florida and Oklahoma to help turn the power back on.
Maryland Governor Martin O'Malley said he would ensure utility companies restored electricity quickly.
"No-one will have his boot further up Pepco's and BGE's backsides than I will," he said on Sunday afternoon, referring to the two main power firms serving the state.
The storm damage also caused online disruption, with Netflix, Instagram and Pinterest services temporarily disabled.