Bus monitor Karen Klein's tormentors suspended for year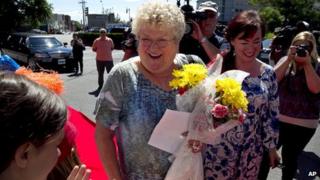 Four US students who gained infamy after a video of their verbal abuse towards a bus monitor went viral have been suspended from school for a year.
Footage of the 12- and 13-year-olds taunting Karen Klein has been viewed some 8 million times.
The school system in the New York state town of Greece says the students must also complete 50 hours of community service with senior citizens.
Mrs Klein, 68, said she did not want the boys to face criminal charges.
She told the Associated Press last week that others should not harass or threaten the students.
"That's not the way to go about things," she said. "They're just kids."
Suicide jibe
An internet campaign to send her on holiday has now raised nearly $670,000 (£427,000).
The online fund was set up by a Toronto man on the crowdfunding website Indiegogo after he saw the video on YouTube.
The clip, Making The Bus Monitor Cry , shows Mrs Klein appearing to break down in tears as she is subjected to a litany of insults.
The barbs include profanities, physical ridicule, taunts and her being told to shut up.
Some ask what her address is, telling her they want to steal from her and perform sexual acts.
One boy tells her she does not have a family as "they all killed themselves because they didn't want to be near you".
Mrs Klein's son killed himself 10 years ago.
In addition to the suspension, the students will not be allowed on a district school bus for a year.
They will be transferred to an alternative education programme, as the school district is required to educate them, and will be able to reapply to their original school at the end of the year.
The boys and their families have admitted wrongdoing and agreed to the suspensions without a hearing.