Peter Madoff pleads guilty over links to Ponzi fraud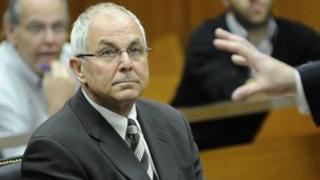 The brother of convicted Ponzi scheme swindler Bernard Madoff has pleaded guilty at a court in Manhattan, New York, to charges relating to the $65bn (£41bn) dollar fraud.
Peter Madoff, 66, admitted conspiracy and falsifying financial records and has accepted a 10-year jail term.
Bernard Madoff's Ponzi scheme, which operated from the early 1990s, stole savings from thousands of investors.
He is serving a 150-year jail sentence after being convicted in 2009.
The FBI took Peter Madoff into custody at his lawyer's office in New York earlier on Friday.
'Epic pain'
Madoff told the judge he was "deeply ashamed and terribly sorry", but also said he had not known about the scandal until December 2008, when his brother admitted to it.
When he discovered the scam "I was in shock and my world was destroyed. I lost everything I worked for," Madoff said.
The elder Madoff, now 74, has repeatedly denied that his brother had any involvement in the scheme, which saw some $20bn of investments disappear and a balance sheet of $65bn revealed to be a sham.
His "investment fund" was once thought to be the biggest hedge fund in the world.
But Peter Madoff told the court on Friday that he had helped his brother send what remained of the money to a selected group of people that included some friends and relatives.
"I was shocked and devastated but nevertheless I did as my brother had said, as I had consistently done for decades," Madoff said. "I knew that the conduct was wrong and I am deeply ashamed."
The money was never sent out.
Prosecutors also told the court that sometimes Madoff would sign weeks of compliance reports in a single sitting, changing pens and ink colours to give the impression they had been signed at different times.
"Peter Madoff played an essential enabling role in the largest investment fraud in US history. He made a pretence of compliance; he was really about complicity," FBI Assistant Director Janice Fedarcyk said in a statement.
"The Madoff investment empire, built on a foundation of deceit, was a house of cards that grew to skyscraper proportions.
"As Peter Madoff has admitted today, he was one of the chief architects," she added.
Meanwhile, US Attorney Preet Bharara said: "Peter Madoff enabled the largest fraud in human history. He will now be jailed well into old age, and he will forfeit virtually every penny he has.
"We are not yet finished calling to account everyone responsible for the epic fraud of Bernard Madoff and the epic pain of his many victims."
Madoff has been released on $5m bail, secured by $1m in cash or property. He is scheduled to be sentenced on 4 October.
Prosecutors have also said Madoff has agreed to surrender all his assets.