US Catholic priest convicted of sex abuse cover-up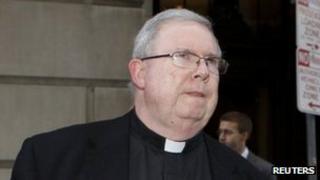 A high-ranking Philadelphia Roman Catholic Church official has been found guilty of endangering the welfare of a child in a sex abuse case.
Monsignor William Lynn was acquitted of two additional charges.
Prosecutors alleged that Lynn, who supervised hundreds of priests, helped cover-up child sex abuse, often by transferring priests to new parishes.
He is now the highest-ranking US Roman Catholic official convicted in connection in a wider scandal.
Child sex abuse cases across Roman Catholic churches in the US have cost billions in settlements, driving some US dioceses into bankruptcy.
The jury deliberated for 13 days but was unable to deliver a verdict against a co-defendant, Rev James Brennan, accused of sexually abusing a 14-year-old boy.
Lynn has been on leave from the Church since his arrest in 2012.
Predator list
Lynn was convicted specifically of endangering the victim of Edward Avery, a former priest convicted in 1999 of sexual assault.
The secretary for clergy had declared Avery guilty of an earlier complaint by 1994, and helped steer him into a treatment programme. But he also knew that Avery was later sent to live in a new parish, where he assaulted an altar boy.
Lynn was found not guilty of another charge of child endangerment and conspiracy.
As secretary for clergy from 1992 to 2004, Lynn was in charge of supervising about 800 priests in the Philadelphia archdiocese, including investigating sex abuse claims.
Lynn told parishes with suspected predators that their priests were being removed for health reasons and then sent the men to unsuspecting churches, prosecutors said.
Defence lawyers argued that Lynn alone tried to document the complaints, to get priests into treatment and to alert higher Church officials to the growing crisis.
Central to but physically absent from the case was Cardinal Anthony Bevilacqua, who ran the archdiocese.
The trial exposed how involved the cardinal, who died in January, was in dealing with accused priests.
Bevilacqua had the final say on what happened to the priests, ordering many to be transferred to new parishes. He also ordered the shredding of a 1994 list of three diagnosed paedophiles and a dozen confirmed predators in the archdiocese, according to testimony.
Philadelphia is the sixth largest US archdiocese, with 1.5 million members.