Sandusky jury rehears key testimony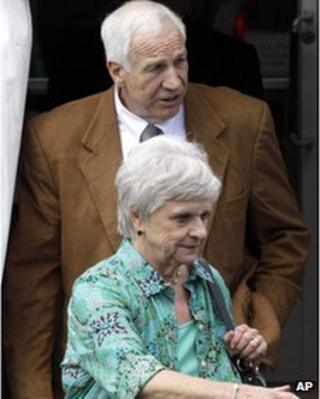 The jury in the sex abuse case of a former top US college football coach has reheard testimony a day after his adopted son joined his accusers.
Lawyers re-enacted testimony by Mike McQueary, who said he saw Jerry Sandusky, 68, molest a boy in a shower.
They also re-read evidence by a doctor who said Mr McQueary, a trainee coach at the time, gave him another account.
Mr Sandusky denies 48 counts of abusing 10 boys over 15 years. If convicted he may spend the rest of his life in jail.
The seven women and five men of the jury deliberated for eight hours on Thursday.
Dramatic twist
In place of the original witnesses, lawyers for both sides read the testimony from transcripts.
Among the statements the court heard again was Mr McQueary saying he did not see penetration, but did see a boy pressed up against a wall with Mr Sandusky behind him.
Jurors also saw re-enacted testimony by a McQueary family friend, Dr Jonathan Dranov.
He said Mr McQueary told him a version of the story that did not mention seeing sexual contact.
Mr McQueary testified that he had not told Dr Dranov all that he saw.
After rehearing the testimony, jurors resumed their deliberations.
Sequestered since the end of the trial, the panel should have no knowledge of Thursday's dramatic twist in the case when the defendant's son, Matt Sandusky, said through a lawyer that his father had abused him.
The lawyer said the 33-year-old met prosecutors earlier this week and was prepared to testify in the trial. It was apparently the first time he had come forward with such allegations.
Matt Sandusky could not testify directly because he was not included as an accuser in the charges. But the prosecution could have put him on the stand as a rebuttal witness if his father had testified.
He first lived with the Sanduskys as a foster child, before he was adopted as an adult.
After the elder Sandusky's arrest in November 2011, it emerged that Matt Sandusky had attempted suicide four months after first arriving at their home.
At around the same time as the arrest, Matt Sandusky's ex-wife, Jill Jones, obtained a restraining order, forbidding her three young children from staying over at the defendant's home.
In closing arguments on Thursday, the prosecution said that Mr Sandusky was a "predatory paedophile", while the defence said his accusers had financial motives.
Eight men aged between 18 and 28 testified during the nearly two-week trial, providing graphic details of the alleged abuse.
Mr Sandusky's wife, Dottie, also took the stand, telling the court about her husband's charitable work with children and countering some of the accusers' allegations.