Body parts suspect Luka Magnotta pleads not guilty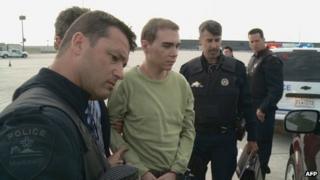 A Canadian porn actor accused of murdering and dismembering his lover has pleaded not guilty at a court hearing in Montreal.
Defence lawyers asked that Luka Rocco Magnotta undergo a psychological evaluation before proceedings continue.
The 29-year-old is accused of first-degree murder, defiling a corpse and threatening the prime minister.
The limbs of his alleged victim, a 33-year-old Chinese student, were sent to political parties and schools.
Mr Magnotta appeared before the court via video link, under guard watch, and pleaded not guilty through his lawyer Pierre Panaccio.
On Thursday, a court is to consider the request from Mr Magnotta's lawyer for tests to determine whether the suspect bears criminal responsibility.
Mr Magnotta was extradited from Germany on Monday and brought to Canada by military transportation.
He was arrested in Berlin on 4 June after an employee in an internet cafe recognised him from newspaper pictures.
The fugitive did not fight extradition, and had briefly appeared on Interpol's wanted list.
Police say they will ask Mr Magnotta about the location of victim's head, which is still missing.
"This is not the end of the investigation," said Montreal police commander Ian Lafreniere. "We're missing an important part of the investigation, which is the head of the body."
Lin's headless torso was found behind the block of flats where the bisexual porn actor lived.
Severed limbs, also confirmed to be Lin's, were sent to political parties in Ottawa, including Canadian Prime Minister Stephen Harper's Conservative Party, and to two Vancouver schools.
A Chinese foreign ministry spokesman said on Tuesday that Beijing was monitoring the case and it hoped for justice to give "the victim a result that can have him rest in peace".
Police suspect Mr Magnotta used an ice pick to stab Lin, who was studying at Montreal's Concordia University, late last month.
A film thought to show the murder was posted online, and police said on Friday they had obtained a longer version of the video.